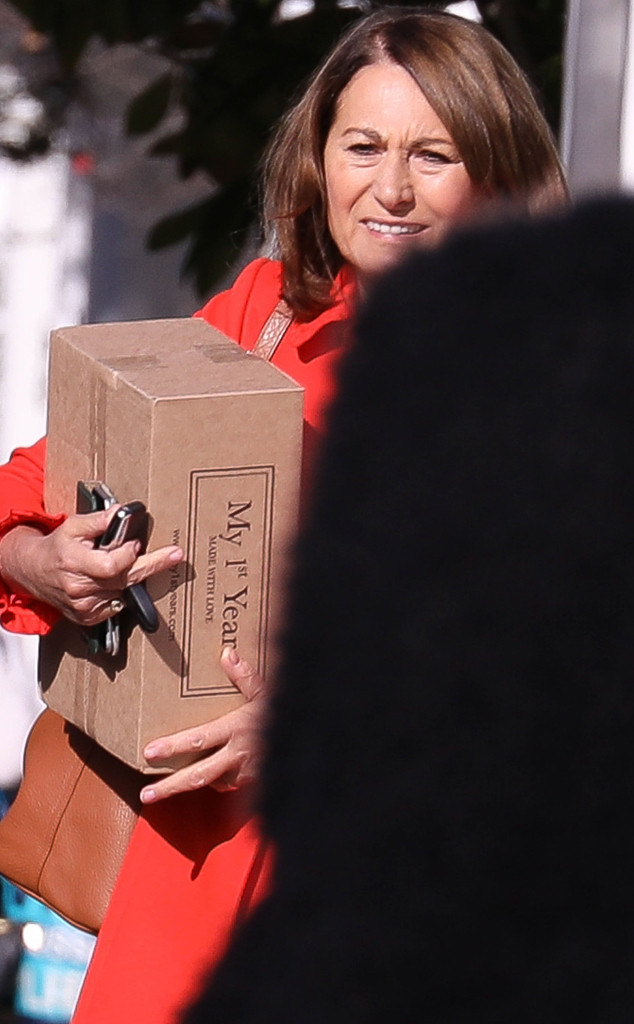 SplashNews.com
Grandma Carole Middleton comes bearing baby gifts!
Her youngest daughter and Kate Middleton's sister Pippa Middleton, 35, and husband James Matthews welcomed their first child, a baby boy, on Monday. On Friday, Carole was photographed walking to the couple's London home carrying a cardboard box bearing the words "My 1st Years," the name of a company that offers personalized apparel and toys for babies and little kids.
The Middleton family are fans of the brand; Kate and husband Prince William's eldest child Prince George notably wore a My 1st Years white and blue trimmed robe when he met President Barack Obama and First Lady Michelle Obama at his family's Kensington Palace home in 2016.
Carole was also photographed carrying a gift basket.
Pippa and James' son is Carole and husband Michael Middleton's fourth grandchild. In addition to George, Kate and William are also parents to daughter Princess Charlotte, 3, and 5-month-old sons Prince Louis.
Pippa and Kate's younger brother James Middleton, 31, has no children.