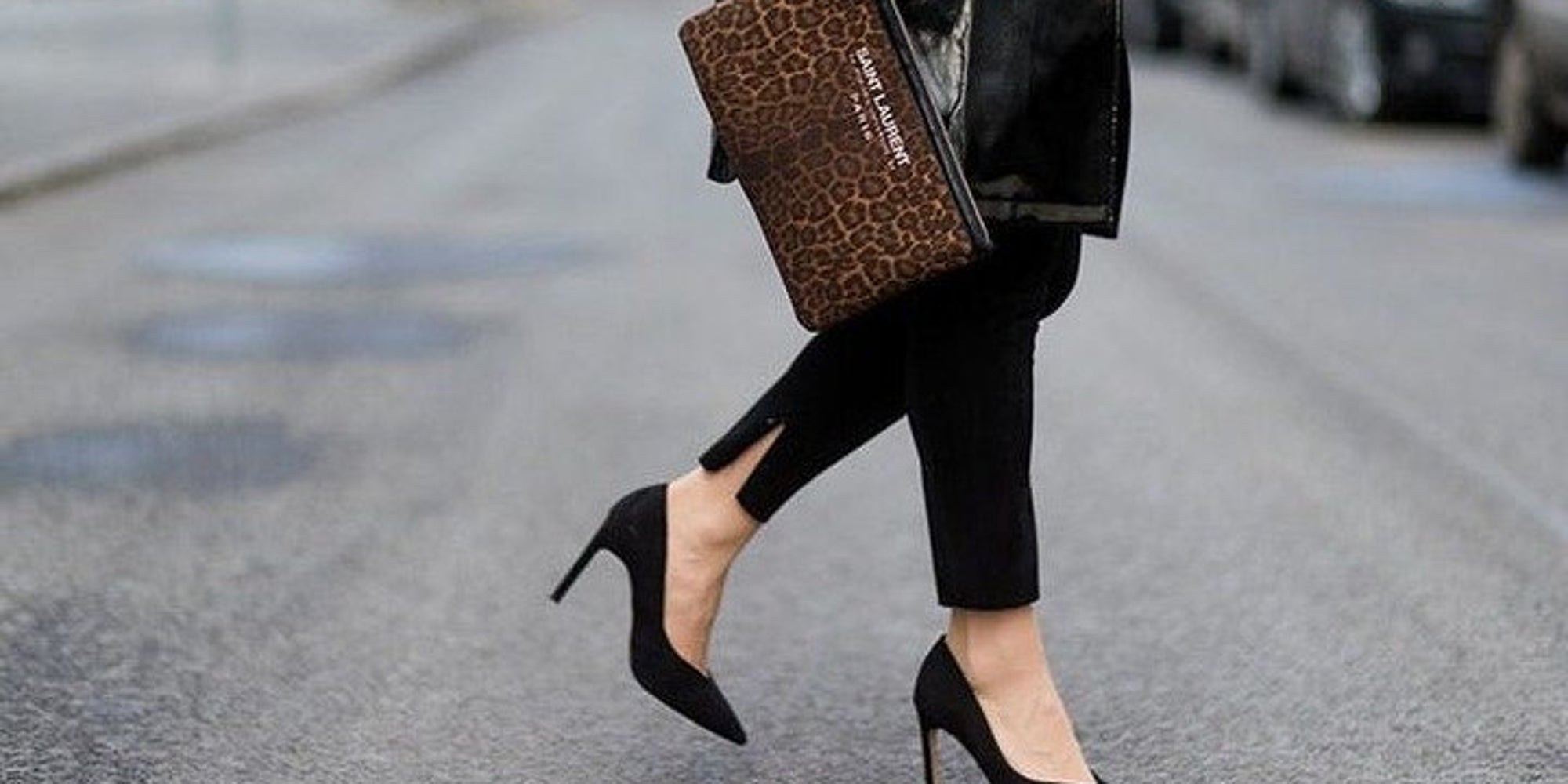 Real talk: All-black outfits are our main, number one go-to. They're flattering and easy to put together. But if you're worried about looking a little boring (or like you're on your way to a funeral), we have nine ways to spice up your monochromatic looks.
Related: 5 Refreshing Ways to Accessorize a Black Dress
ADD A POP OF PRINT
An all-black outfit is the perfect palette for standout accessories. Maybe you're not into wearing a leopard print dress, but a chic leopard clutch is an excellent way to inject a little fun into a simple look. If ever there were a time to parade your favorite statement bag, this is it.
OR A HINT OF COLOR
Bags aren't the only accessory that can elevate black clothes. A silk scarf tied tight around your neck can be the cherry on top of your favorite look (without forcing you to get too far out of your neutral-color comfort zone).
Related: 10 Fresh Ways to Wear a Silk Scarf
BELT IT
Yes, her belt says "Goodbye" in giant letters, but you get the point. Adding a metallic or colored belt works for two reasons: First, it's a chic touch that pops on an all-black background. Second, it adds extra slimming power to an already flattering color palette.
Related: The 8 Most Flattering Clothes for Your Waistline
MAKE SURE YOUR SHOES STAND OUT
Noticing a theme? When it comes to making an all-black outfit interesting, accessories are your best friends. Black pants and a black coat get the street-style-star treatment with cool lace-up heels. Something to note: Statement shoes don't have to mean statement heels. Your most rad pair of sneakers would look equally great here.
MIX MATERIALS AND TEXTURES
There's nothing wrong with an all-black outfit that happens to be all cotton as well, but try mixing it up with an unexpected fabric like leather, suede or faux fur every now and then.
Related: 5 Tips for Shopping for Clothes Online
PLAY WITH PROPORTIONS
Voluminous tops with tight bottoms. Wide legs with snug blouses. The key to keeping things interesting with a monochromatic look often comes down to how you balance out the silhouette.
SHOW THE SLIGHTEST HINT OF SKIN
At first glance, this is a pretty standard (albeit stylish) combination. Look a little closer, though, and swoon over the mesh top peeking out from the top of her blazer. All black can sometimes seem stiff and buttoned-up, but subtly sexy details like this keep it current and cool (but still appropriate).
Related: 7 Trends from New York Fashion Week That You Can Wear Right This Second
AND IF YOU GO SHORT, GO LOOSE
More on proportions: If you're wearing a mini skirt or dress (this goes for most colors, not just black), keep the overall fit on the looser side to avoid veering into clubbing territory.
FIND PIECES WITH TINY (BUT AWESOME) DETAILS
See that cool fringe? Subtle details like this are the difference between a run-of-the-mill ensemble and one that will have everyone asking where you got your pants.
Related:
6 Fashionable Ways to Tuck in Your Shirt
The Absolute Best Places to Shop for Wardrobe Basics
6 Fresh and Edgy Ways to Wear Florals This Spring
10 Twists on the Classic Button-Down (Making It Anything but Basic)
12 Spring Outfit Ideas That Will Get You Out of Your Winter Rut
— This feed and its contents are the property of The Huffington Post, and use is subject to our terms. It may be used for personal consumption, but may not be distributed on a website.