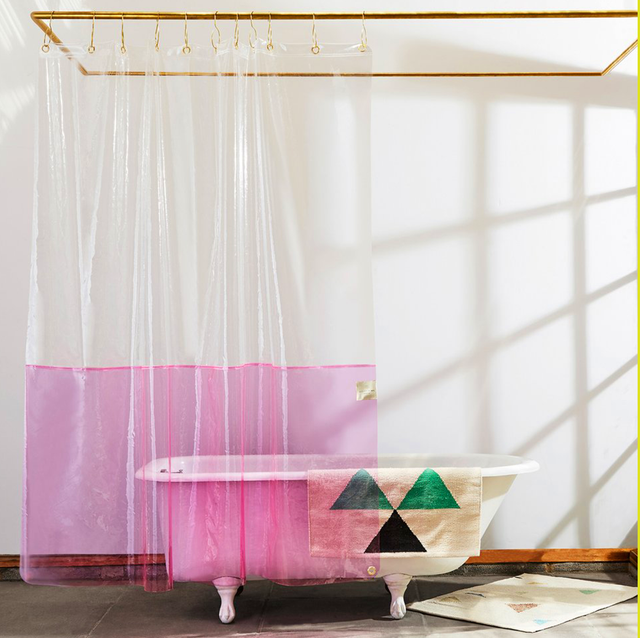 Courtesy
I could spend hours on Instagram scrolling through pictures of dreamy bathrooms. You know, the ones that look like mini spas? Sadly, you've gotta shell out thousands of dollars to get that HGTV look. I mean, have you ever seen the price tag on marble tile or jacuzzi tubs? Whew, definitely too rich for my blood. If you can relate, but still want to give your place a chic makeover, don't pout. Something as simple as a cute shower curtain can change the entire mood in your bathroom. And you can find a good for less than 20 bucks. Yep, that way you can live out your Mariah Carey on MTV Cribs dreams while sticking to your budget.
Whether you want something that's colorful and wild or looking for a neutral beauty, the trendy shower curtains ahead will upgrade the entire bathroom. So keep on reading for fun, decorative ideas.
Advertisement – Continue Reading Below
1
This mosaic design
Shower Curtain
WELTRXE
amazon.com
$15.99
No need to spend all your money on custom mosaic tile when you can get this less-than-$15 pretty curtain.
2
This color block one
Sun Shower Orient Phlox
Quiet Town
quiettownhome.com
$62.00
When you can't decide between going bold with color or sticking to something neutral, do both with this two-tone, clear-and-pink design.
3
This graphic option
Shower Curtain
Eleroye
amazon.com
$19.99
A silly message is always a clever way to add a little personality to your room; plus, the classic gray background here will never go out of style.
4
This geometric curtain
June Journal Shower Curtain
Deny Designs
nordstrom.com
$89.00
Go back in time with a curtain that has a retro design. This one will light up the entire room.
5
This boho design
Soleil Shower Curtain
Jungalow
jungalow.com
$41.00
If you already have a ton of lil plants in your bathroom, you might as well add this sun medallion curtain to emphasize those bohemian vibes.
6
This fruity one
Shower Curtain
Summer showers are ten times better with a gorgeous lemon-decorated curtain. Oh, and this one is cheap enough to swap out every season.
7
This ombré option
Ombré Shower Curtain
Peri Home
kohls.com
$41.99
The gradient on this seafoam green curtain is absolutely heavenly. It also has subtle texture for something extra. 
8
This fringe curtain
Tassel Fabric Shower Curtain
Triangles and stripes give a plain white design a chic upgrade, and I can't forget to mention those frilly tassels.
9
This holographic design
Shower Curtain
Anything that's iridescent instantly gets my attention, including this hypnotizing curtain.
10
This polka-dot one
Prosperity Shower Curtain
Jungalow
jungalow.com
$41.00
Prints don't have to be intimidating. The polka dots on the curtain here are gathered together into little diamond-shaped clusters which will look good in any bathroom.
This content is created and maintained by a third party, and imported onto this page to help users provide their email addresses. You may be able to find more information about this and similar content at piano.io
Advertisement – Continue Reading Below