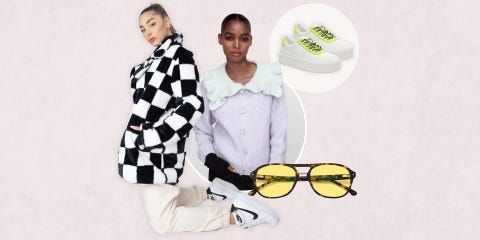 Retailers
After almost ten months of perpetual sweatpants-wearing, my body is sooooo ready for those good 2021 fashion trends to hit. And believe me when I say, the new year brought with it only the *freshest* of vibes. Funky checks, dramatic platforms, and sleek shoulder bags are just some of the looks coming to saturate your wardrobe with even more '90s flavor.
But don't worry, I'm not here to tell you that leggings are out and 6-inch pumps are in. Actually, the high-comfort aspect of 2020 dressing is still present in pretty much every single one of these styles–but, like, a lot cuter. Scroll on for the best trends you pretty much have to shop.
Advertisement – Continue Reading Below
Cardigan/Crop Top Sets
We're Happy Together Sweater Set
Sugar Thrillz
dollskill.com
$57.60
Baguette Bags
Cow Printed Hobo Bag
Storets
storets.com
$64.90
Also known as the shoulder bag, this little baby falls right in the sweet spot between the micro bags of 2020 and the massive tote you wish you could carry around. They offer a more spacious interior, with a helping of vintage flare.  
Flare Street
freepeople.com
$210.00
Yuuup, that's a thing. This year we're edging even further away from skinny jeans and back into the flared bottoms of eras past. Keeping with the elastic waistband surge of 2020, this trend is easily shoppable in printed, jersey fabrics. 
Yin-Yang
Crinkle Hem Mini Skirt in Ying and Yang pPrint
Rokoko
us.asos.com
$12.80
Let me save you some time: if they wore it in the '90s, you're gonna wear it in '21. Along with platforms, baggy jeans, and–well, basically everything else on this list–the yin-yang print is seeing its own comeback. 
Groovy Swirls
The Ragged Priest Jitters Cardigan
The Ragged Priest
urbanoutfitters.com
$85.00
Abstract wave prints are to 2021 what leopard print was to 2019. Animal-inspired graphics are still a vibe, but bright, retro designs will add a bit of freshness to your look. 
Thanks to 2020's heavy lean into loungewear, your sneaker collection is even more relevant now than it was a few months ago. We're doing comfy shoes only from here on out, but with elevated details like a '90s-style flatform. 
Slouchy Dad Jeans
Mid Blue Dad Jeans
Topshop
topshop.com
$75.00
Remember that week in June when everyone on TikTok bought mens jeans at Walmart? Well, we're gonna continue that energy all the way through next year. Consider this loose-fit trend a way of easing back into real clothes.
Checkerboard
Checkers Faux-Fur Coat
You've been wearing checkered Vans since day one and, in case you haven't noticed, it makes every outfit look exactly 12x cooler. Splash the print on the rest of your closet if you're looking for a chill-girl update.
Jumbo Frames
Matt Tortoise Grandpa Acetate Aviator Tinted Sunglasses
We had a good run, tiny glasses! Now, it's time to move on to bigger and better things–emphasis on the "bigger." Oversized, '70s-era frames are set to out-place the micro shades in your daily wardrobe.
Bib Collars
Combination Bib Collar Knit Cardigan
Like balloon sleeves and puff headbands, collars are now getting the jumbo treatment. This pastel knit iteration is really giving me Bridgerton vibes, which means I pretty much have to buy it. No?
Elevated Loungewear
Ruched Detail Sweater
After living in coffee-stained pajamas for the past, like, 300 days, you deserve to feel cute again. Stylish lounge sets supply the same comfort we demand, but will also make you feel like a person.
Literally Any Type of Vest
Neon Jacket With Detachable Sleeves
Berska
bershka.com
$69.90
This content is created and maintained by a third party, and imported onto this page to help users provide their email addresses. You may be able to find more information about this and similar content at piano.io
Advertisement – Continue Reading Below