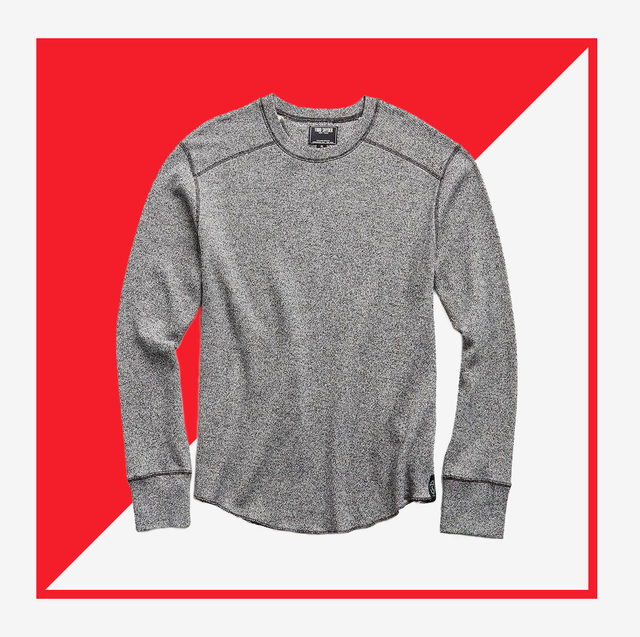 Assorted retailers
This time of year is full of contradictions. We're indulging in more sugar than we've had in the last 11 months combined, then the next thing you know, we're setting fitness goals for a brand new year. One second we're stuffing our faces with leftovers, and the next we're discreetly scrolling Instagram for some #fitnessinspiration.
The funny thing is, whether we're curled up on the couch or heading to the mountains for some winter sporting fun, you'll probably find us in a thermal shirt, also known as a men's waffle shirt; it's the best base layer for extreme cold and comfortable to wear on its own. And trust us, thermal shirts do work for keeping you warm in the winter.
What are thermal shirts, you ask? They're designed to be your cold weather base layer to help you retain body heat in chilly temps. Worn under sweaters and jackets, the best thermal shirts for men are the secret ingredient to getting you through outdoor winter runs or epic snowboarding trips with a smile on your face.
They come in a variety of fabrics, and choosing the thermal wear right for you depends on your needs. The best material for base layer clothing is either a synthetic, like a polyester-blend if you're looking for sweat-wicking capabilities, or wool, which is naturally odor-repellent if that's your top concern, perfect for a long day on the slopes.
Check out the 12 best thermal layer shirts for men to crush something other than carbs come January.
Advertisement – Continue Reading Below
Fruit of the Loom Classic Waffle Thermal Shirt 2-Pack
The key to a good thermal shirt is a snug fit to retain as much heat as possible. This sweat-wicking waffle crewneck has spandex cuffs to avoid losing any body warmth. You can buy the Amazon best-seller on its own or in a pack of two.  
Patagonia Men's Capilene Thermal Weight Zip-Neck
Outdoor experts often turn to Patagonia for their technical apparel needs, and thermal wear is no exception. This men's slim-fit thermal shirt is made from a heat-trapping and sweat-wicking blend, making it the perfect base layer for a winter hike. If you get hot along the way, just unzip the neck an inch or two. 
Buck Mason Vintage Thermal Surplus Tee
Looking for the best thermals for year-round wear? Try this lightweight men's waffle shirt that's not too tight and not too loose, keeping you cool in warmer temps, or keeping you warm when bundled up under other layers. Vintage-inspired details earn you style points.
Flint and Tinder Raglan Waffle Henley
This men's waffle thermal shirt is high on comfort, made in a heavyweight waffle-weave cotton that's relaxed, but not baggy. The worn-in vintage style is more suited to weekend brunches with the boys than, say, some black diamond ski runs, so consider it the ideal henley for winter lounging. 
Todd Snyder Thermal Crew
You'll see your short-sleeved t-shirts next summer. For now, a stylish crewneck thermal shirt—like this one from Todd Snyder in a trendy marled shade—is your daily go-to. This one will take you way beyond the slopes. Dress it up with jeans and a blazer for date night. 
Nike Pro Warm Men's Long Sleeve Top
Flexible fabric moves with you in this Nike thermal shirt, so you can focus on performance and not your outfit. Sweat-wicking fabric ensures you stay dry and comfortable. This is our pick for one of the best thermals for serious activity, because fitness doesn't take seasons off.
Everlane The Waffle Knit Long-Sleeve Crew
One of our favorite men's waffle thermal shirts, this cotton edition from Everlane boasts a flattering cut that doesn't scream "long johns." It comes in a different color for everyday of the week, and at this price, we'd suggest grabbing more than one.
Uniqlo Men Heattech Ultra Warm Turtleneck Long Sleeve T-Shirt
Protect your neck in this turtleneck thermal that Uniqlo says is more than two times warmer than its regular HEATTECH technology. Crafted with a tight fit to retain body heat, size up if you're looking to wear it as a casual tee. It's sweat-wicking, so definitely appropriate for sports, though the style is spectator-worthy, too.
Smartwool Merino 250 Crew Base Layer Top
When it comes to the best thermals for the extreme cold, look no further than Smartwool. Made of soft merino wool that won't scratch or irritate your skin, this natural fiber wards off winter. Naturally odor-repellent, invest in this high-quality thermal shirt for years of snow sport activity ahead.
Lululemon Keep the Heat Thermal Long-Sleeve Shirt
A wool-synthetic blend gives you the best of both worlds: odor-fighting capabilities with sweat-wicking breathability. Layer this under a performance fabric hoodie for a friendly game of pick-up at your closest outdoor court or a parka on your next boarding trip. 
Uniqlo Men Heattech Ultra Warm Long-Sleeve T-Shirt
This Uniqlo men's waffle shirt is one of the best base layers for extreme cold, but it's also worthy of wearing on its own as your go-to winter t-shirt to wear with jeans and sneakers. It boasts the perfect, slightly boxy fit and it comes in a variety of shades so you can snap up a few of your favorites.
Smartwool Merino 150 Quarter-Zip Top
Perfect for that outdoor pigskin-throwing session, this men's waffle shirt has a zipper for ventilation when you work up a sweat. Merino wool is mixed with nylon for extra durability and merino wool is thermoregulating, keeping you warm without overheating.
This content is created and maintained by a third party, and imported onto this page to help users provide their email addresses. You may be able to find more information about this and similar content at piano.io
Advertisement – Continue Reading Below