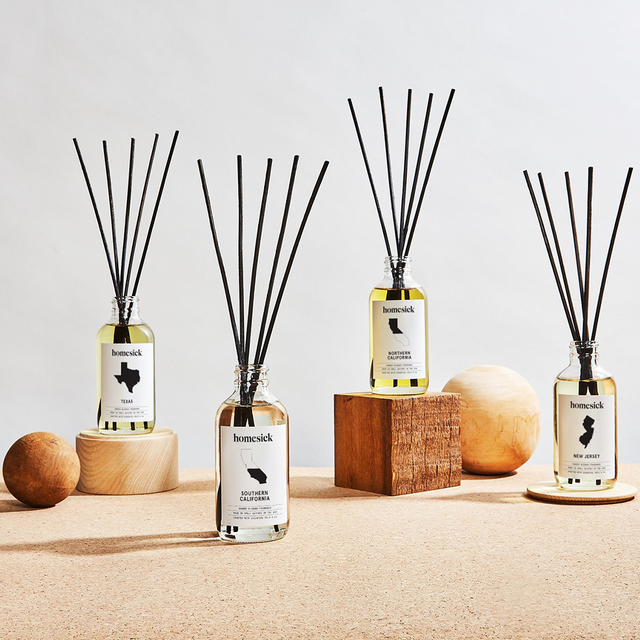 Courtesy
If you're not into using plug-in air fresheners or having open flames (i.e. candles) just out in your home all willy-nilly, then it sounds like reed diffusers are more your style. Not only do they get the job done, freshening up your space, but they also look great doing it. (And I do love a great 2-in-1!)
In my book, it's the easiest way to instantly transform a room, visually and olfactorily. And, because it doesn't require any heat or flame, you can betcha it's the safest, too. All ya gotta do is set up your reed diffuser with the sticks placed in the oil and wait for the fragrance to travel up the reeds and disperse into the air. (No fear of burning down your house included, phew.)
Add to that, you can definitely reuse the decorative little vase to hold other things, like random knick-knacks or fresh flowers, long after the fragrance oil is gone. And speaking of, there are about a milli different scents to choose from, so you can certainly find the one that's right for you.
But if you need some help finding the best reed diffuser to revive your space, then step this way and shop some of the best picks, below.
Advertisement – Continue Reading Below
1
If Your Fave Color is Pink
Winsome Reed Diffuser
Illume
nordstrom.com
$40.00
If you're a rose-gold-everything kind of person (i.e., ME), then this is perfect for you. This gorgeously pink reed diffuser also has yummy notes of pine, amber, and sweet melon, making it a must-have (or at least a must-smell).
2
if you're homesick
Florida Reed Diffuser
Home Sick
Homesick
$27.96
If you miss home (or where you went to for spring break once), then try this diffuser. No worries if you don't have any ties to Florida, there are other state scents to choose from! 
3
If you're looking for an elegant one
English Pear & Freesia Scent Surround™ Room Diffuser
Jo Malone London
nordstrom
$98.00
Looking for one that's sleek and elegant? Found it! This one by Jo Malone London smells like just-ripe pears and a bouquet of white freesias. How could you say no to that?
4
if you hate running out
Favorito Red Poppy Diffuser
Claus Porto
modaoperandi.com
$90.00
This one comes with not one but two bottles of fragrance oils, so you're already stocked up.
5
If You Miss The Beach
ILLUME® Fresh Sea Salt Reed Diffuser
crate and barrel
crateandbarrel.com
$28.00
This diffuser is like a beach in a bottle—and you bet I'm using it until I can book my flight to the DR.  
6
if you want a sophisticated scent
Reed Diffuser Set Bergamot, Vanilla, Lavender & Jasmine
binca vidou
amazon.com
$19.99
Jasmine, bergamot, vanilla, and lavender—this will instantly make your space feel more elevated.
7
If Every Purchase Has a Purpose
Brown Sugar and Fig Reed Diffusers, Set of 2
Kirkland's
kirklands.com
$59.99
If you're into warm fragrances, then this brown sugar and fig scent will do your room right. Plus, for every diffuser purchased, this brand will donate clean water for those in need, so you can smell good while doing good.
8
If you want a stunning decorative bottle
Reed Diffuser in Gorgeous Silver Bottle
BrookburyHome
etsy.com
$15.00
This chrome-looking bottle is too pretty not to hit "add to cart." There are five different scents to choose from, but I'm already eyeing Ocean Rose.
9
If you love that fresh laundry smell
Linen (Spring Showers & Cotton Blossoms) Diffuser
West Elm
westelm.com
$30.00
One of the great joys of life is the scent of clothes freshly plucked from the dryer. Thanks to this diffuser, you can have that smell without actually having to do your laundry. 
10
If You Have Expensive Taste
Bamboo Reed Diffuser
Nest Fragrances
saksfifthavenue.com
$50.00
Nest is known for its candles and reed diffusers, so you can trust that you'll get a smell you'll love. This one is a little bit of a splurge, but the combination of flowering bamboo, white florals, and sparkling citrus make it totally worth it. 
11
If You Love Energetic Aromas
Citrus Sunset Reed Diffuser
This room fragrance is for those who love to smell grapefruits as much as they love eating them. This scent combines that invigorating smell with notes of red currant and peach for a mellow transition.
12
if you like moody smells
Apotheke Pur Collection Diffusers
Apotheke
westelm.com
$45.00
You gotta have options, OK. Choose between Charcoal (which has notes of cypress and vanilla bean) or Palo Santo (sandalwood and white cedar). Both are beyond incredible, but whichever one you choose, know that that matte glass vessel is certainly a vibe. 
13
if you want an adventurous scent
Amber & Moss Diffuser
P.F. Candle Co.
amazon.com
$24.00
To all my outdoorsy folks, this one could be your new home staple. It smells mossy, clean, and a bit like a wooded forest. 
14
if you want more bang for your buck
Rove Collection Reed Diffusers
West Elm
westelm.com
$40.00
Less is more, especially in this instance. Minimalist in looks, but maximalist in scent, this diffuser lasts for up to five (five!) months.
This content is created and maintained by a third party, and imported onto this page to help users provide their email addresses. You may be able to find more information about this and similar content at piano.io
Advertisement – Continue Reading Below