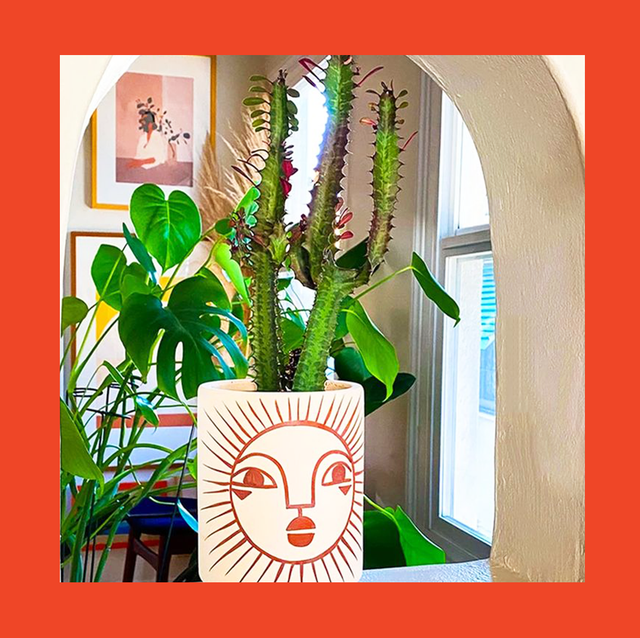 Courtesy
So, you're a proud plant parent. Congrats! Thanks to your lil green bbs (shoutout to all my fave lowlight plants, small indoor plants, and most importantly hard-to-kill plants), you're beautifying your home, freshening your air, and flexing that nurturing muscle of yours (yes, watering your plants is an act of love). And being the stellar parent that you are, you likely already know that finding the right planter or pot for your photosynthesizing babe is just as vital as having a regular watering schedule. And finding a cute planter is even better.
Think of it this way: A planter is essentially the plant's outfit. You want it to look fly while also being conducive to healthy plant growth (i.e. featuring a drainage hole at the bottom in case of over-watering and being spacious enough for it to grow and spread its roots). And with so many different pots and planters out there, I, of course, had to show you 17 of the best (and cutest!) planters worth buying. So scroll through and let's get to plant clothes shopping! I mean, planter shopping.
Advertisement – Continue Reading Below
1
This minimalist one
Medium Burbank Planter
This simple fiberglass planter has a solid and sleek design that'll fit in with any decor—plus, it comes in three different colors.
2
this happy planter
Emuna Kaya Face Pot
Justina Blakeney
jungalow.com
$79.00
Hard to have a bad attitude when you're looking at this happy face pot. Watch your plant bb thrive in this one. 
3
The Black Planter
Black Pedestal Pescadero Outdoor Planter
World Market
worldmarket.com
$79.99
Imagine plants with hanging leaves in these cement planters. You can betcha they're durable enough to live outside, but if you plan on using them for indoor plants, note that they don't come with a drainage tray for excess water. 
4
this Window Sill Planter
Ceramic Flower Planter Pots for Plants
The Next Gardener
amazon.com
$20.99
This planter comes in this mystical blue-green colorway or in a crisp white one. Place it near your window to reflect the other beautiful colors while your greenie gets that much-needed sunlight.
5
this pop of color
Closed Mondays Hanging Planters
Closed Mondays
westelm.com
$102.00
A splash of color is all you need with these cotton hanging planters. Tie your home decor together with this bud in the air. And yes, all colors are available for both large and small planters.
6
this self-watering option
Perfectly Watered Plant Pot
Uncommon Goods
uncommongoods.com
$48.00
In case you forget to water your plant, this pot is already thinking ahead. All you do is fill the glass surrounding the pot with water, and the roots will sip as much H2O as they need through the bottom.
7
these Booty Planters
Butt Planter
ChiclyBuilt
etsy.com
$16.99
Cuties in booties are essentially the vibe here. What better way to appreciate the (sculpted) body than to put plants in it? If your love is on top, there are boob planters, too.
8
these bronzed bbs
Mid Century Modern Planter Pot Indoor with Drainage
MODN LOVR
amazon.com
$42.99
These copper planters would be such a showstopper in any room.
9
This Face Planter
Beautiful Head Planter
MIASVARD
amazon.com
$26.99
Just imagine your favorite, most textured plant baby in this one. Now hit "add to cart".
10
these geometric pots
Rio Terracotta Indoor/Outdoor Cache Pots
West Elm
westelm.com
$17.35
Durable enough for outdoor living, but cute enough for indoor living, this planter comes in varying geometric designs based on its size. Plus, each one has a drainage tray for excess water.
11
these bougie-looking planters
5-inch 4-inch Plant Pots 4 Set
On the hunt for something a lil $$$-looking? Grab a couple of these marble ones. And at under $30, they won't break the bank.
12
This Supes Adorbs Planter
Coconut Fiber Elephant Planter
Uncommon Goods
uncommongoods.com
$65.00
Whether it's for a nursery or your damn self, this elephant planter is just too cute to pass up.
13
this one for the office
Ceramic Flower Planters Indoor
Ekirlin
amazon.com
$16.99
Because having an office plant is a must! This planter brings a little personality to your space without making it too distracting.
14
this Bowl Planter
Terracotta Planter Pot
Here's one that's perfect for fitting all of your succulents in one place.
15
This one about growth
Talk Growth to Me (White or Black)
Plant Economy
planteconomy.co
$20.00
We love affirmations and this one definitely delivers!
16
these triangular bbs
Triangle Succulent Pots with Ceramic Trays
Jastbozier
amazon.com
$25.99
Get this set of three mini succulent trays and (maybe) give one to your bestie as a friendship plant. Maybe.
17
this Leafy Shaped Planter
6″ Flower Earthenware Planter White Petal – Opalhouse™
Opalhouse
target.com
$12.00
Don't let the size fool you, this planter can fit cute, little succulents and even gracious snake plants. Stick this one anywhere to spruce up a room and freshen the air.
This content is created and maintained by a third party, and imported onto this page to help users provide their email addresses. You may be able to find more information about this and similar content at piano.io
Advertisement – Continue Reading Below