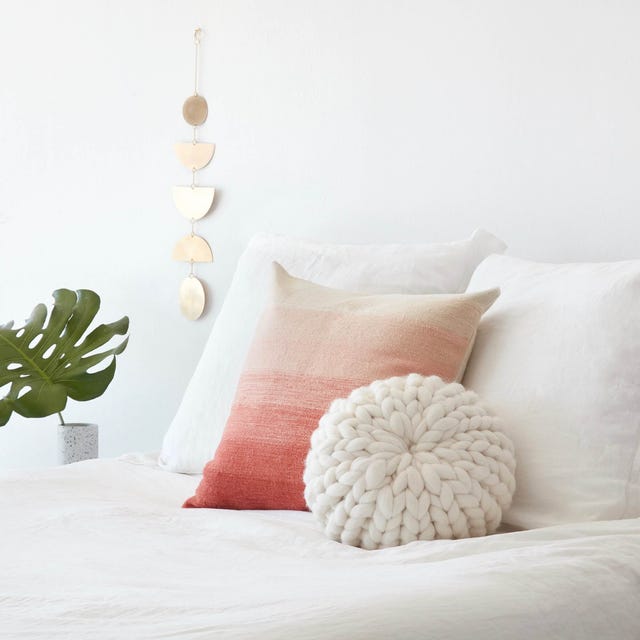 courtesy
Confession: I have a LOT of throw pillows. I have at least three on my sofa, and a bunch scattered around the living room, dining room, and bedroom. There are so many designs out there, and I love combining and arranging all the pillows for a more eclectic feel to my apartment. But you can also choose to color coordinate them to make your space refined and sophisticated, too! Basically, if you feel like something is missing in your apartment or in a certain room, the answer is probably…a cute throw pillow.
Yes, they can be expensive and in some cases you have to pay more for a pillow insert (read the description!), but many of them are handwoven or dyed and feature gorgeous textiles that are well worth the investment. Since they're mostly decorative and you're not sleeping on these every night like your regs pillows, they'll hold up so much longer and will last you through multiple moves. So if you're looking to brighten up your boring beige sofa, make a seating area more inviting, or you just want to impress your friends and parents with your cool decor (same), here are 18 of the best throw pillows no matter what aesthetic you're into.
Advertisement – Continue Reading Below
1
this patchwork one
Star Kantha Pillow
Jungalow
jungalow.com
$59.00
You don't have to pick one pattern with this fun patchwork creation. It's also star-shaped for a more whimsical touch. 
2
this knit one
Knitted Throw Cover
famibay
amazon.com
$21.99
A soft knit cover with all the tassels is one you'll def want to cozy up next to. 
3
this round one
Robertson Button Pillow
Kelly Clarkson Home
wayfair.com
$30.90
Not all pillows are squares and rectangles, duh. They can be any shape, like this round button style that switches things up.  
4
this faux-fur one
Merino Style Fur Throw Pillow
Phantoscope
amazon.com
$13.49
A fuzzy throw pillow covered in faux-fur always looks chic, and in the upcoming cold months it'll make your home feel a lil more warm. 
5
this two-toned one
Asum Pillow – Cobalt
Bole Road Textiles
boleroadtextiles.com
$140.00
If you want a more unique pillow, this one from Bole Road Textiles has the prettiest color combination and is handwoven in Ethiopia. 
6
this tufted one
Boho Tufted Throw Pillow Cover with Handwoven Stripes
VANNCIO
amazon.com
$19.99
You'll love to run your hands all over this cool tufted pillow featuring textured vertical lines on a linen case.  
7
this abstract one
Tapestry Pillow 14
Goodee
goodeeworld.com
$100.00
You artsy, huh? Throw this asymmetrical design anywhere to instantly add color to any chair or sofa. 
8
this striped one
Lagom Pillow – Long Lumbar
Johanna Howard
johannahoward.com
$195.00
A shorter, longer lumbar pillow will give you extra back support when sitting down, but this bold striped one looks anything but orthopedic. 
9
this teal one
Bristol Pillow
LR RESOURCES
tjmaxx.tjx.com
$16.99
This gorgeous printed design is a real steal considering it comes ready to go—i.e., it doesn't need an insert. Your boho-inspired bedroom needs this cotton style stat. 
10
this seashell one
Velvet Pillow Shell "Gold pearl"
IDK about you, but these seashell are all over my IG. This stunning amber shade will look good with any other decor and give your space a subtle ~aquatic~ vibe. 
11
this textured one
Breuer Rectangular Pillow Cover & Insert
Mercury Row
wayfair.com
$40.90
The zig-zags give this solid-colored pillow a little extra detail, and it comes on so many other shades so you can coordinate it with the rest of your furniture. 
12
this ikat one
Schumacher Indigo Blue Vientiane Ikat Pillow
Schumacher
domainbylaurahodgesstudio.com
$94.99
Ikat is a stunning dyeing technique that creates patterns, like the one on this blue-and-white throw pillow. Layer it with other printed pillows on a chair for a statement-making centerpiece. 
13
this flower one
Flower Pillow
Dusen Dusen
dusendusen.com
$74.00
A simple white throw pillow with a wavy flower design looks more modern than your typical floral designs. If you want a simple black-and-white color scheme that's not a snooze, this is a great option. 
14
this velvet one
Lucca Persimmon Orange Pillow Set
Article
article.com
$99.00
Hear me out: There are some pillows that cost this much and you only get one, but with this set you get TWO. Choose from any of the other bright colors, and you can put a velvet one on both sides of your sofa to balance it out. 
15
this ombre one
Marea Pillow – Blush
The Citizenry
the-citizenry.com
$150.00
Woven by artisans in Lima, Peru this gradient design is a stunner. It'll definitely pop on neutral bedding, if you tend to stick with cream-colored or white sheets. 
16
this polka dot one
Polka Dot Faux Fur Pillow
Anthropologie
anthropologie.com
$48.00
Who can resist this guy? The faux fur combined with the white polka dots make this design downright charming. 
17
this vintage-inspired pillow
Jorine Pillow, Cream and Black
Lulu & Georgia
luluandgeorgia.com
$86.00
If you're going for an old-school look for your place, this printed pillow will go nicely on your bed with some cute Polaroids hanging on the wall above it. 
18
this tassel pillow
18″x12″ Bia Tassel Pesto Velvet Pillow
A solid-colored pillow can never be plain with tassels as big as this! You can choose a feather or down-alternative insert with this style, and the velvet fabric comes in pink as well. 
This content is created and maintained by a third party, and imported onto this page to help users provide their email addresses. You may be able to find more information about this and similar content at piano.io
Advertisement – Continue Reading Below