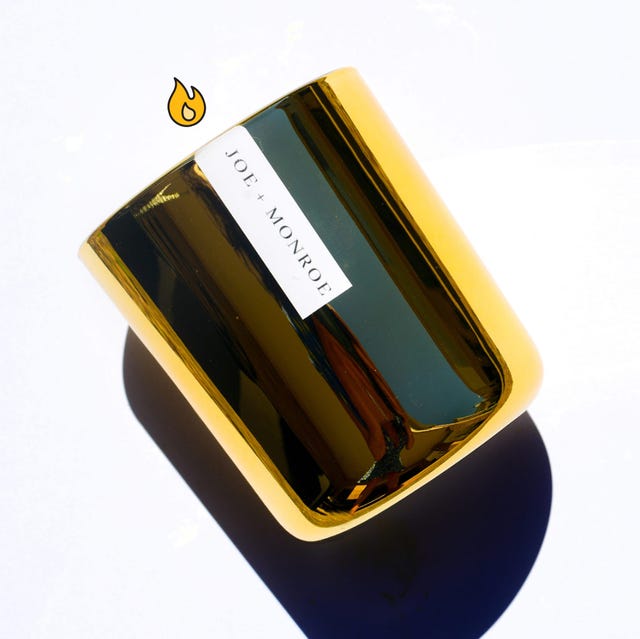 There are a ton of Black businesses you can support, from skin-saving beauty products to dreamy fashion finds. But the candle companies are, by far, my favorite.
IDK about you, but I live for finding the next perfect scent that adds variety to my candle collection. That's why I always keep a couple of good options around. Like, when I'm in need of a pick-me-up, a powerful message, with a yummy scent, always does the trick. Or when I need an escape from my socially distant life, I pretend I'm somewhere else (wait 'til you see the french inspired candle). There are even candles that'll ward off bad energy. In this house, it's good vibes only.
If you, too, wanna make sure your collection is on point, then you've gotta check out the need-to-know Black-owned candle brands below.
Advertisement – Continue Reading Below
1
A refillable one
The Nero Marquina Black Marble Scented Candle
Gilded
gildedbody.com
$68.00
It'll be hard to part ways with this black onyx vessel once it finishes burning. And you don't have to, thanks to the refillable design.
2
A silhouette one
Bré Body Candle
Beyond Interior
beyond-interior.com
You'll have to be lucky to find these artsy beeswax candles in stock. Fans are constantly buying them out, but they're definitely worth the wait.
3
A shiny one
Brandy Leather Candle
Joe and Monroe
joeandmonroe.com
$42.00
Gold accents instantly add a touch of glam to any room. So make sure this tobacco-scented beauty is sitting smack dab in the middle of your coffee table.
4
A one-of-a-kind
Heirloom Artisan Candle
Laguna Candles
amazon.com
$149.00
This gorgeous work of art is for the folks who need something pretty to add to an empty shelf. 
5
A handmade one
Vanilla & Amber Soy Candle
Dorothy B & Co.
etsy.com
$21.00
The tin lid on this jar is giving me throwback Mason jar vibes. What's even better: It's handmade in Brooklyn, so every order is unique.
6
A luxe one
"Savoy" Luxury Candle
harlem candle company
harlemcandlecompany.com
$45.00
I'm gonna go ahead and apologize right now because you are going to want to buy all of Harlem Candle Co.'s scents. Start with this one that is inspired by Harlem's glamorous Savoy Ballroom.
7
An outdoorsy one
An Open Candle
Predominantly Black
predominantlyblack.com
$25.00
If winter makes you wish that you were back at the beach, don't pout, because the sea-salt notes in this candle will bring the scent into your room.
8
A gold-flecked one
Melanin Goddess
A candle designed for a queen? Say no more. This heavenly candle found a way to bottle it up and deliver it to you with a wooden wick that crackles like a fireplace. Plus, it's topped with gold flakes…ooh la la!
9
A French-inspired one
Magnolia Blossom
Marie Hunter
mariehunterbeauty.com
$42.00
Is social distancing destroying your travel plans? If you answered "oui," why not *try* to pretend that you're in the city of light with this candle inspired by France that will fill your home with romantic florals. 
10
This one with good vibes
Palo Santo Patchouli Candle
BlkOrchidApothecary
etsy.com
$15.00
If you're a fan of warm, woodsy scents, cozy up to this scent that's perfect for yoga, meditation, and watching that Zac Efron documentary on Netflix, IMO. 
11
A symbolic one
Casablanca Candle
La Botica
garmentory.com
$65.00
Zoom in on this chic candle and you'll see coordinates that match the city-themed scents. I promise the Casablanca one will turn your home into summertime vibes.
12
A non-floral one
Mahogany Teakwood Soy Candle
Aromaology
etsy.com
$26.45
This candle will suit anyone who hates flowers and sweet-smelling stuff. This one has notes of mahogany, and a warm, and woody palette. 
13
A magic one
Self-Love Ritual Candle
I vibe with anything that promotes self-love. AND you say it's magic? Oooh…count me in. Light this candle for a lil' witchy fun!
14
A hype one
Inner Strength Candles
Valerie Wray
uncommongoods.com
$35.00
We all have shitty days. Light this candle to remind yourself that you're a baller. Choose from any three sayings.
15
A Dessert one
Strawberry Shortcake Dessert Candle
WindingWickCandles
etsy.com
$23.00
Calling all fellow sugar-lovers! (1) How cute is this candle? And, (2) I promise it will bring you back to your childhood mems. IDK if I want to eat it or light it…
16
A wine one
Lost In Sangria
ShopVibesByLo
etsy.com
$8.00
Nope, you can never have too much wine! Even if that means your candle is sangria scented…
17
A fresh one
Fresher Than A Motherf*cker
PettyCandleCo
etsy.com
$15.99
Reviews compare this scent to waking up with a cup of tea on a rainy Sunday morning. And guaranteed, with every light, you will be fresher than a motherf*cker.
18
A BLM one
BLM Be The Change Soy Candle
NaturalAnniEssential
etsy.com
$26.00
This amaze BLM soy candle comes in five scents: coconut bamboo, chili and mandarin, spiced honey, unscented, and my personal fave, black amber and plum. 
19
A vibin' one
B!tch Don't Kill My Vibe
DesertHippieShop
etsy.com
$18.70
A positive energy candle that combines good vibes, aromatherapy, and a whole lotta personality.
This content is created and maintained by a third party, and imported onto this page to help users provide their email addresses. You may be able to find more information about this and similar content at piano.io
Advertisement – Continue Reading Below