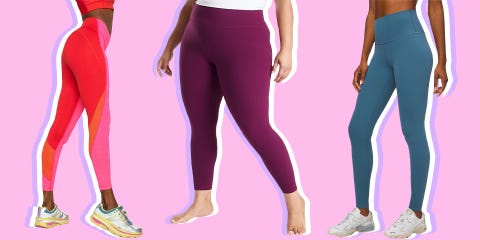 Retailer
Leggings are the one item in your closet that really do it all. You reach for them before spin classes, biology lectures, date nights, Disney movie marathons, and beyond, which is why you have to be really selective when picking the right pair. A good set of leggings has to be flexible, durable, thick, stylish, and above all, comfortable. But even so, it's hard to find a pair that checks every single box – your soul-leggings, if you will.
If you're looking to add a few more sets of high-quality options on your roster, this list is a good place to start. These athleisure brands are the favorites of workout junkies, legging-lovers, and magazine editors alike. Yep, you've pretty much hit the legging jackpot.
Advertisement – Continue Reading Below
1
Bestseller
Align Pant 28″
Lululemon
lululemon.com
$98.00
Understatement of the century: Lululemon makes great leggings. Even with the $$$ price tag, these babies are so worth it. Others have tried to duplicate their buttery soft fabric, but so far, no one has been able to replicate the cloud-like feel of a pair of Align Pants. Both hardcore athletes and leggings-as-pants people will find their next favorite pair at Lululemon. 
2
Booty Boost Active Cropped Leggings
No, Spanx doesn't only make undergarmets and shapewear, the brand also stocks a huge supply of fitness attire. Their leggings are some of my most-worn workout items, because they really know how to put the booty on display.
3
High-Waist Airlift Legging – Chartreuse
Alo Yoga
aloyoga.com
$118.00
Alo comes closest to rivaling Lululemon leggings with their super-soft, lightweight fabric. Speaking from personal experience, even girls with a whole lot of leg can wear these without looking like you're prepping for a flood.
4
Bargain Alert!
Sexy Stretch Legging
Express
express.com
$21.00
Express is probably the last place you'd think of for comfy leggings, since the brand is mostly known for their stylish business attire, but their legging selection is a hidden gem. Thanks to the thick, elastic waistband, they fit like a dream. Find the perfect comfy cotton legging (my personal favorite) or a liquid leather version for going out. The quality is so good, you'll be wearing them for years. 
5
OFFLINE Goals High Waisted Legging
Editors at Elle swear by Aerie leggings, because of their durable make and inclusive size range. Shop leggings in sizes XXS-XXL that are thick enough to withstand workouts and workouts worth of chub rub.
6
The Perform Legging
Everlane
everlane.com
$58.00
Everlane released a new drop of coordinating workout sets as an update to their cult-favorite Perform Leggings. Stocked in sizes XXS to XXL (and in seven different color ways) these babies have been called "the most comfortable sports legging I bought so far" by satisfied customers. 
Wanna steal this whole vibe? Shop the matching sports bra here. 
7
Editor's Pick
High Rise Full-Length Legging
Carbon 38
carbon38.com
$118.00
This croc embossed legging can be dressed up for an occasion or in the gym for your next sweaty selfie. The fabric is lightweight and silky smooth for comfort so good, it's grown a cult following.
8
Warmup Legging
Outdoor Voices
outdoorvoices.com
$78.00
You've probably already seen this athleisure brand all over your Instagram feed. Influencers, celebs, and fashion editors have all been living in Outdoor Voices gear, because of the comfortable, durable quality and the photo-worthy colorways.
9
Bonded Active Legging
Adam Selman Sport
revolve.com
$98.00
Adam Selman designs workout staples that could double as clubwear. With Hot Girl fabrics like leopard and lace, their leggings and bras are worth it for aesthetics alone. 
10
High-Waisted Knotted-Hem Jersey Plus-Size Leggings
Old Navy
oldnavy.gap.com
$23.99
I've got an entire drawerful of Old Navy leggings that I've been wearing for years – that's how good the quality is. Personally, I like their workout capris, but almost every style of their leggings boasts a 4 star review or more. 
11
Lost Your Marbles High Waisted Midi Legging
Beyond Yoga
beyondyoga.com
$93.99
The super high-rise fit makes Beyond Yoga leggings a cult favorite. Scroll through their website for crazy-stylish prints and patterns you won't see anywhere else – I mean, just look at these rose gold leggings!
12
Elation 7/8 Tight
Athleta
athleta.gap.com
$89.00
Athleta is famous for their lightweight, ultra soft leggings and always-perfect fit. One of their thousands of five-star reviews said Athleta's leggings "might honestly be the best article of clothing I've ever put on my body." Enough said.
13
High-Rise Leggings
Adidas has been making quality workout gear for decades and if you've never tried their leggings, it's time to change that. As a fitness brand, they've got everything from compression leggings, to mesh running tights, to lounging-around-the-house leggings. Shop tons of styles in straight and plus sizes on the Adidas website
14
Vital Rise Leggings
Gymshark
gymshark.com
€38.50
Fans really ride for Gymshark leggings. They're durable, comfy, and they give your booty hella shape. 
15
Editor's Pick
Faux Patent Leather Legging
Commando
wearcommando.com
$98.00
If you're looking for *fancy* leggings, Commando's are the most elevated and sculpting. 
16
Piper Legging Rose Leopard Shine
Beach Riot
beachriot.com
$128.00
Beach Riot has the coolest details, like fun shimmer and vibey prints. They have a high waisted design and flexible fabric that makes them so movable. It's the best of both worlds.
17
Match Play Legging
P.E Nation
pe-nation.com
$100.00
P.E Nation is a fashion athletic brand but their material and structure is no match against any gym workout. 
18
Legging Studio Lux Perform
Reebok is a notorious athletic brand but just as much as they make you feel good they also look good. 
19
Farrah Sculpt & Sweat Yogas
Emma Lou the Label
emmalouthelabel.com
$115.00
Nothing says winter season more than a soft, velvety texture. Emma Lou makes these plush leggings to induce extra sweat during workouts.
20
Editor's Pick
Piping Detail Legging
Donna Karan
donnakaran.com
$55.00
I have a pair of DKNY leggings in my lineup and I cannot stop wearing them. I guarantee they will stay up through your whole workout. 
This content is created and maintained by a third party, and imported onto this page to help users provide their email addresses. You may be able to find more information about this and similar content at piano.io
Advertisement – Continue Reading Below