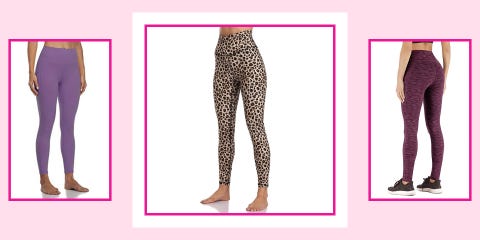 Amazon
I don't know who needs to hear this, but Prime Day is TODAY. That means, from now until Oct. 14 you can buy yourself a brand new stack of non-stretched-out leggings to add to your pile – which, after six months of daily wear are probably ready for retirement. New deals will be rolling out over the next 24 hours, but a ton of cult-favorite fashion brands – like Champion, Adidas, and Core 10 – have already gotten the Prime Day touch (AKA major markdowns), but you can still fill up your cart in advance and hope for the best, amiright?!
To further assist your Prime Day prep, I went through pages of Amazon leggings to track down the most beloved, highest-rated designs that shoppers are straight-up obsessed with. From lounge-around-the-house leggings, to hardcore workout tights, to wear-as-pants leggings that do all of the above – these babies are the best of the best. Oh, and almost every single pair costs less than $40 – I'm not even joking.
Ahead, browse the best leggings on Amazon. Believe me, your butt will thank you.
Advertisement – Continue Reading Below
1
Alphaskin 7/8 Tights
Adidas
amazon.com
$45 $34.90 (22% off)
With a phone pocket and bold logo – these adorable mesh leggings are really all you could want in a legging. And did I mention they're on sale?!
2
Bestseller
High-Waisted Airbrush Legging
Alo Yoga
amazon.com
$81.95
Seventeen readers are *obsessed* with these leggings, due to their buttery soft, Lululemon-like feel and perfect high-rise cut. Plus, wearers report they're super durable and can withstand heavy use (so, quarantine). 
3
Bargain Alert!
High Waisted Leggings for Women 3-Pack
THESE LEGGINGS ARE ONLY $9 EACH. Sorry about the caps lock, but I'm excited ok?! With over 16k glowing reviews, these super affordable tights boast a 4.3 stars. They're super thin for lightweight wear and fans call them "incredibly soft and comfortable."
4
Customized
'Build Your Own' Flashflex Run Full-Length Legging
Core 10
amazon.com
$29.25
Last year, these customized, 4.5-star leggings were one of Amazon Fashion's top sellers on Prime Day. And since we're only a few days away from the 2020 shopping holiday, I'm just gonna leave these here. (You're welcome.)
5
Bestseller
Align Pant Full Length Yoga Pants
Lululemon
amazon.com
$129.90
YUP, you can buy Lululemon leggings on Amazon. Get all that butt-cradling action with the added bonus of one-day Prime shipping. It really doesn't get better than this. 
6
High Waisted Pattern Leggings
Colorfulkoala
amazon.com
$29.99
 The reviews for these leggings hit all the buzzwords you'd want when looking for the perfect pair. One reviewer called them "so stretchy and soft and buttery." And there are literally *thousands* more 5-star reviews just like that. 
7
Plus Size High Waist Active Leggings
You've got your gym leggings and your lounge leggings – these are designed for the former. They come equipped with a phone pocket, cropped fit, super stretch action, and, according to reviews, a confidence-boosting fit. "I was always super self conscious in wearing something like this, given my curves, but I can honestly say I'm hooked," said one fan.
8
Bargain Alert!
3-Pack Super Soft Black Leggings
FULLSOFT
amazon.com
$23.98
I'll save you a trip to your calculator app: these are only $8 a pair. The tripple-pack comes with three pairs of a touchable-soft lounge leggings perfect for long, socially distant weekends on the couch. Plus, they come in a range of super cute colors.
9
Bestseller
Yoga Pants With Pockets
Ewedoos
amazon.com
$17.95 $15.25 (15% off)
*Gasp!* These leggings are only $15 (bless you, Prime Day). Yep, and with literally thousands of 5-star reviews, they're guaranteed to spark joy in your lower extremities. They're thick, comfy, and can handle a trip through the washing machine without pilling or shrinking. 
10
High Waist Squat Proof Interlink Leggings
90 Degree By Reflex
amazon.com
$26.99
Just read this review, it'll tell you everything you need to know:
"Hands down BEST leggings I've ever owned. I've purchased anywhere from $10 Walmart leggings to $60 Zella leggings. These beat them all. They fit like a glove, hold you up in all the right places and they're insanely comfortable. They're good for any type of workout or even everyday wear without having see through leggings."
11
Bargain Alert!
High Waisted Leggings
CAMPSNAIL
amazon.com
$26.99
At $7 each, you really can't afford not to buy these. One 5-star review claims "these are honestly the best value I've found in stores or online." 
12
Bargain Alert!
High Waisted Leggings With Pockets
Heathyoga
amazon.com
$21.95
With a solid 4.6-star rating, these lil babies are the ultimate workout legging. Reviewers just cannot stop talking about how breathable they are, which keeps the fit comfy, even after a super sweaty workout. 
13
High Waist Yoga Pants With Pockets
IUGA
amazon.com
$29.95 $23.95 (20% off)
If you've been running in leggings without a phone pocket, you're doing it wrong. These babies will keep your phone 100% secure even during the longest jog. 
14
Editor's Pick
Look at Me Now Seamless Leggings
Spanx ranks high on my list of best leggings brands, because they positively snatch that waist. Their leggings give all-over compression and never give you see-through butt. 
15
Thick High Waist Yoga Pants With Pockets
THE GYM PEOPLE
amazon.com
Two words, y'all: PHONE. POCKETS. According to reviews, these are the holy grail of Amazon leggings for that very reason. Want proof? Just read this one: "I bought these after seeing my friend wearing a similar pair. Little did I know the heaven that would grace my butt when I put these on. Thick, COMFY, supportive material."
16
Bargain Alert!
Plus-Size Stretch Jersey Legging
With a super inclusive size range that spans XL-5XL, these leggings are a quality buy for only $11. They're the perfect, simplistic design for literally any occasion. 
17
Women's High Waisted Yoga Pants
Colorfulkoala
amazon.com
Fans rave about these babies for their stretch, comfort, and opacity, but they also boost a massive color range. Shop them in a full range of pretty pastels, as well as classic neutrals like black and gray.
18
Bargain Alert!
AURIQUE Women's BAL1005
AURIQUE
amazon.com
$10.20
Yeah, you read that price right. For $11 you can score these top-rated leggings to add to your collection. If the reviews are any indicator, you won't regret it one bit. 
19
Buttery Soft Leggings
I think the name says it all here. Like your favorite Lululemon leggings, these super affordable tights bast a crazy-soft feel vouched for by thousands of happy customers. 
20
High Waisted Leggings for Women
If you wear leggings every day, these workout pants are a must. The words "soft" and "comfy" are plastered all over the reviews section – and for under $20, they're a freakin' steal. 
This content is created and maintained by a third party, and imported onto this page to help users provide their email addresses. You may be able to find more information about this and similar content at piano.io
Advertisement – Continue Reading Below