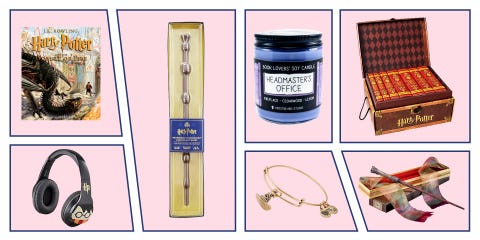 Retailers/Margaret Flatley
In the Harry Potter world, there are infinite opportunities for HP-themed gifts. There's Christmas, obviously, but there's also: Harry's birthday, Dumbledore's birthday, Halloween, the anniversary of the Battle of Hogwarts, September 1st, New Year's Eve (Voldemort's birthday) – the list goes on and on. What I'm saying is: there's no wrong time to reward your inner nerd with a little Harry Potter merch or, in my case, an entire bookshelf full.
Your Hogwarts letter never came, but you can still find some pretty awesome gifts that would look right at home on the shelves of Weasleys' Wizard Wheezes. Ahead, shop official Harry Potter products that will awaken your inner fangirl.
Bestseller
Golden Snitch Clock
Every Seeker should have this dainty clock sitting next to their bed. 
Harry Potter Herbology Hoodie Sweatshirt
Urban Outfitters
urbanoutfitters.com
$69.00
Wow HP merch is REALLY stepping it up in 2020. This herbology sweater lowkey could be from Zara.
Bestseller
Dragon Egg Bath Bomb Gift Set
SevenandSixCosmetics
etsy.com
$26.13
"I'd try putting it in the water, if I were you." – Moaning Myrtle 
Harry Potter Youth Pleated Face Mask
Vera Bradley
verabradley.com
$24.00
You can shop both face masks – the kind that protect you and the kind that make you *glow* – in a cute HP motif.
Harry Potter House Crest Cookie Cutters
williams-sonoma.com
$9.99
This are soooo much cooler than your typical Christmas cookies.
Golden Snitch String Lights
Harry Potter
pbteen.com
$49.50
Tired: string lights. Wired: Golden Snitch string lights. 
Wizarding World Nagini Earring Holder
Pottery Barn Teen
pbteen.com
$90.00
Harry Potter X Ulta Beauty Mini Mysteries Beauty Vault
Harry Potter Icon Cozy Slippers
Harry Potter
hottopic.com
$14.90
These cozy slippers are as close as you'll get to warming your toes by the fireplace in the Gryffindor common room.
Harry Potter™ RFID Riley Compact Wallet
Vera Bradley
verabradley.com
$60.00
Harry Potter Erised Mirror Gold
It does not do to dwell on dreams and forget to live, but you can dwell on your own beautiful reflection in this replica Mirror of Erised.
Harry Potter Icon Hair Accessory Set
Harry Potter
hottopic.com
$12.90
Yep, this exists. VSCO girl Harry Potter fans, your time is now.
Harry Potter Hogwarts is My Home Bangle Two-Tone
Alex and Ani
amazon.com
$39.00
Women's Bikini
MeUndies
meundies.com
$18.00
Smells Like Draco Soy Wax Candle
CandECraftCo
etsy.com
$17.00
Turn on Harry Potter, light this candle, close your eyes, and let the magic become a reality. 
Harry Potter™ Reversible Sequined Decorative Pillow
Harry Potter
bedbathandbeyond.com
$19.99
A sparkly pillow will upgrade your room like ~magic~.  
Customizable
Personalized Starbucks Cup
CleverHollyDesigns
etsy.com
$11.45
Keep the most magical potion of them all (coffee) safe and steaming hot with this spill-proof to-go cup. 
Harry Potter Ravenclaw Crest Holiday Sweater
Harry Potter
boxlunch.com
$29.99
Matrix Biolage Styling Whipped Mousse
Harry Potter Books 1-7 Special Edition Boxed Set
I'm just gonna leave this here for any Harry Potter "fans" who haven't actually read the books…
"Harry Potter" Trivia
Test a fan's true knowledge with this Harry Potter version of Trivial Pursuit.
Harry Potter Mystery Minis Blind Box Water Globe
Funko
hottopic.com
$12.90
These lil globes will look great standing next to your collection of Harry Potter books.
Harry Potter Elder Wand Handbag
Loungefly
boxlunch.com
$79.90
Instead of your typical hardware, this mini bag comes with teeny replicas of the Deathly Hallows and the Elder Wand. 
POP! Harry Potter Patronus
POP! collectors, you have to add this new release to your collection.  
Harry Potter Hogwarts Letter Hoodie Sweatshirt
Urban Outfitters
urbanoutfitters.com
$69.00
Rep ya boy with this graphic tee printed with the moment Harry gets his first Hogwarts letter in Sorcerer's Stone. Just try not to think about the fact that, sadly, you will never have this moment.
Harry Potter and The Sorcerer's Stone Puzzle (550 Piece)
USAOPOLY
amazon.com
$9.99
Jelly Belly Harry Potter Bertie Bott Every Flavor Beans
Jelly Belly
walmart.com
$5.95
Maybe if you're lucky, you'll get to try a bogey flavored bean, too.
Limited Edition Harry Potter Notebook
Jot down magic spells – or, you know, your bio homework – in this luxury notebook inspired by the Maurader's Map.
Harry Potter Teen Pajama & Robe Set
Pottery Barn Teen
pbteen.com
$238.00
A robe and pajama set all in one package. *Buys one for myself.*
Harry Potter Wall Decor-Hogwarts Crest
ForTheLoveOfBookShop
etsy.com
$10.95
This handmade print is made from real pages from the Harry Potter books. Just don't tell Madam Pince. 
Harry Potter Ear Earbuds
This magical headset plays music like your own personal Sonorous Charm – super loud and crystal clear.
Harry Potter and the Chamber of Secrets: Gryffindor Edition
If the sorting hat didn't put you in Gryffindor, this book isn't for you.
Harry Potter Rubeus Hagrid Hut 3D Model Kit
Fascinations
kohls.com
$14.95
Build a 3D hut (with a wheelbarrow and all) yourself with this metallic model kit. 
Harry Potter: A Pop-Up Guide to Hogwarts
Insight Editions
amazon.com
Harry Potter Charm
Give your favorite Pandora bracelet a dose of magic with their new Harry Potter charm collection. You can score teeny versions of your favorite characters, plus beads with iconic HP symbols, like the Hogwarts Express and Gryffindor lion.
Tickets to the Wizarding World of Harry Potter
Visit Hogwarts IRL with a ticket to Universal Studios' Wizarding World of Harry Potter. Sip butterbeer, cast spells, and ride the Hogwarts Express – so, basically, do everything you've been dreaming about since the first time you read the books. Universal Studios is open now at limited capacity. 
Harry Potter Sticker Bundle
Paper House Productions
amazon.com
$12.43
 Excuse me while I stick these Hogwarts decals on *literally* everything I own.  
Gryffindor Box Set
My Weekend is Booked
myweekendisbooked.com
$75.00
This fandom box comes with an enamel book cover pin, a House Pride candle, an orange bath bomb, and a deck of playing cards perfect for Exploding Snap. 
Harry Potter Gryffindor House Red Plaid Mini Skater Dress
Hogwarts school uniform, but make it fashion. 
Harry Potter Wand With Ollivanders Wand Box
Harry Potter
noblecollection.com
$37.50
Holly and phoenix feather – great for disarming spells and nothing else.
HARRY POTTER™ Chenille Crest Throw
Pottery Barn Teen
pbteen.com
$69.00
Throw this knit on your bed for a little House pride or use it as a wall tapestry to turn any space into a Hogwarts common room.
Harry Potter Years 1-7 Part 1 Gift Set Blu-ray
Warner Brothers UK
amazon.com
$129.00
If you've been getting your wizarding fix through random Harry Potter weekends, it's time you invest in the real thing. Head back to Hogwarts any time you want with this 7-disk set. 
Harry Potter Time Turner Replica Necklace
This necklace won't transport you through time (unlike Hermione's), but it does make a great outfit add-on.
Magic Moving Photo Printer
Print moving pictures straight off of your phone with this like-magic printer. Just take a video in the Lifeprint app, print out the picture, then hold it in front of your phone camera – the photo moves like wizard pictures in the movies. 
Harry Potter and the Goblet of Fire: The Illustrated Edition
The new illustrated Goblet of Fire is here and every page is covered in gorgeous drawings of some of Harry's most daring moments. 
This content is created and maintained by a third party, and imported onto this page to help users provide their email addresses. You may be able to find more information about this and similar content at piano.io