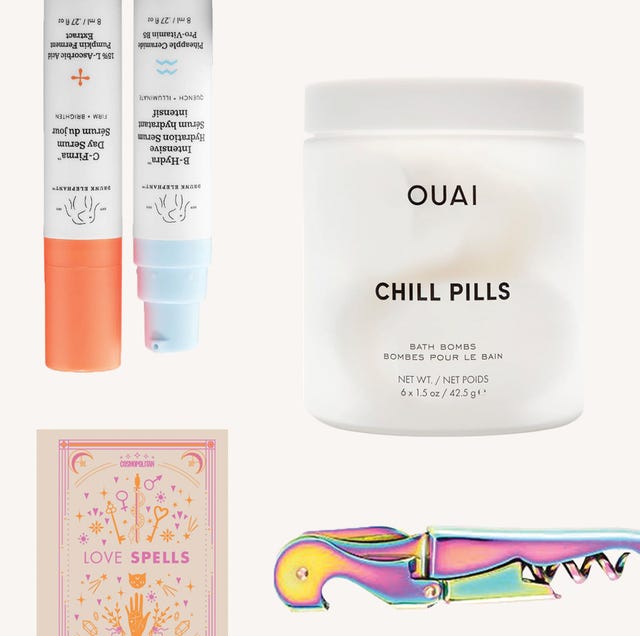 katie buckleitner
Pretty soon here it'll be that time of year when you're invited to alllll the gift exchanges and Secret Santas, and if you're lucky, you'll get to go to a white elephant party, too. If you've never been to a white elephant and have no idea what to expect, here's the gist: Everyone brings a gift that's worth the same amount, and everyone draws numbers to determine the order that you get to pick a random gift out of the pile. Sounds easy, right? But there's a twist! You don't have to pick a new gift in the pile when it's your turn. If you've got your eye on a present that someone else has already opened, you can choose to steal their gift instead. Cue the drama, revenge, and suspense! In other words, expect even the closest of friends and family members to turn against each other in the blink of an eye and snatch gifts right out of each other's hands. Gotta love the holiday spirit!
Because there are so many kinds of gift ideas you can bring to one of these get-togethers, you might be wondering where to start. You can go the quirky, random, funny route or you can choose to bring something functional and nice—just depends on the theme and the group. If you need some ideas to get the ball rollin', here are 47 white elephant gift ideas $35 and under that'll liven up any holiday party.
Advertisement – Continue Reading Below
1
this candle that smells like Harry Styles
This Smells Like Harry Styles Candle
Coolgirlcandles
etsy.com
$17.40
Wanna know what Harry Styles smells like? Hint: tobacco, spice, vanilla, and cocoa. Oh, would ya look at that! Those are the same notes used in this candle. We bet there's a Directioner at your white elephant party who would *adore* this gift.
2
these BFF flasks
Bestie Flasks
The best white elephant gifts are equal parts LOL, useful, and nostalgic. These handy flasks that resemble the BFF necklaces you had as a kid check all those boxes.
3
this shower icing
8 fl oz Indulgence Shower Icing
IndulgenceSpa
etsy.com
$15.00
This jar of icing looks so good you could eat it—but don't! It's actually a whipped moisturizing cleanser that only smells like something you'd want to eat. And with scent names like "Monkey Farts," and "Better Than Sex Cake," it'll get some good laughs, too.
4
this screen cleaner
Touchscreen Cleaner
IROLLER
nordstrom.com
$19.99
It might seem random to you, but any neat-freak would want to steal one of these liquid-free touchscreen smudge cleaner—if they don't already have one, that is.
5
this clever cocktail kit
Cocktail Kit
W&P Design
nordstrom.com
$24.00
When they can't meet their friends for margs at their favorite restaurant, this virtual happy hour kit is the next best thing. This tiny tin box comes with all the goods: small-batch aromatic bitters, cane sugar, bar spoon, muddler, and linen coaster.
6
this foldable coffee dripper
The Pourigami Travel Coffee Dripper
MIIR
nordstrom.com
$29.95
Any confusion they might have after opening this gift will shortly change to amazement when they realize it's a foldable, collapsible device for making drip coffee on-the-go.
7
these adorable vacuums
World's Smallest Vacuum
Westminster, Inc.
amazon.com
$28.99
They'll be obsessed with the tiniest vacuums anyone's ever seen (or used for that matter). So smol! These lil' guys, which are powered by USB, really do work to clean tiny messes and come with two attachments to do so.
8
this infusion sangria kit
Spiced White Sangria Cocktail Kit
Everybody loves sangria, but who has the time to cut up all the fruit that goes into it? Enter: this white sangria infusion kit. It comes with all the dehydrated fruits and spices to make a batch, and all you gotta do is add two bottles of white (or red) wine.
9
these relaxing bath bombs
Chill Pills Bath Bombs
OUAI
nordstrom.com
$30.00
The label on this canister of bath bombs would be funny if you weren't so serious about needing some super-chill relaxation time. This is one gift everyone will fight over, so you might have to tell them to chill out.
10
these funny socks
Sophia Golden Girls Socks
Anyone who says they don't want a pair of Golden Girls-themed socks is lying to your face so they can steal your white elephant gift before it freezes. You can choose from any of the main characters, but Sophia is obviously the best choice, IMHO.
11
this chain necklace
Radical 18K Gold Plated Choker Necklace
BrowniePointsCompany
etsy.com
$35.00
Are you allowed to steal your own gift? Because if you bring this, you're gonna want to. This gold "radical" choker is absolutely gorgeous. 
12
these fancy sugar cubes
Minute Mimosa Sugar Cube Trio
Teaspressa
uncommongoods.com
$30.00
These might look like your average sugar cubes—scratch that, these don't even look like basic sugar cubes! These luxe little flavored sugar squares contain actual fruit and can transform your average glass of champagne or cup of tea into a fancy cocktail.
13
these sustainable lollipops
Garden Lovers 8-Piece Seed Based Lollipop Set
Amborella Organics
nordstrom.com
$20.00
Someone will definitely appreciate a colorful set of lollipops that comes with biodegradable sticks that you can plant to grow herbs and flowers afterward. It's the gift that keeps on giving!
14
a faux-pearl ring
Pearl Ring
Vai Vintage
vaivintage.com
$12.00
All I know is this super-cool faux-pearl ring is one white elephant gift that will definitely get stolen until it freezes.
15
a sugar scrub
Luxe Body Scrub
EmanateEssentials
etsy.com
$14.50
The lucky recipient of this scrub (which comes in a bunch of delicious scents) will love how silky soft it will make their skin, thanks to its surprisingly creamy consistency.
16
this set of srunchies
Shimmer Hair Band Set, AGBX
Eternally in Amber
eternallyinambershop.com
$7.99
Scrunchies are REALLY having a moment. They're the perfect throwback white elephant gift, plus, they are super functional and don't leave hair dents.
17
these cool earrings
U-Turn Earrings
CanDidArtAccessories
etsy.com
$30.00
No, you're not required to get a gag gift (although some are funny). Everyone would want to be the lucky person to unwrap these super-cool U-shaped earrings.
18
a cute waffle bowl maker
Maker Machine for Individual Belgian Waffles
A. Mini. Waffle. Bowl. Maker. That's it. That's the caption.
19
cute hair clips
Cowgirl Hair Clip Set
Humans Before Handles
humansbeforehandles.com
$16.00
Accessory lovers will love a set of acrylic clips in this fun spotted print.
20
a throwback Caboodle case
Beauty Box: Caboodles Edition In Green
This is a crowd-pleasing, nostalgic gift for the people who can't live without their Caboodle cases.
21
a super-cute piggy bank
Stealing Coin Bank Automatic Piggy Bank
TUSEASY
amazon.com
$13.99
Out with the traditional piggy banks and in with cat ones that pop out and grab your coins. Saving money has never been so cute.
22
tarot cards
Everyday Tarot Mini Tarot Deck (RP Minis)
The person who ends up with these might not know how to read 'em, but they can learn! And once they do, they can go around the room and get *real* deep with their friends.
23
a not-so-scary T. rex plant holder
White T-Rex & Silver Dino Planter Set
BlackFloraCo
etsy.com
$28.95
A painted T. rex that fits an easy-to-care-for air plant on its back is a surprisingly chic and unique gift.
24
an astrology-inspired puzzle
Astrology 1000 Piece Jigsaw Puzzle for Adults
Galison
amazon.com
$16.47
All the astrology fans at the party will totally love a thousand-piece puzzle that features all the zodiac signs.
25
a set of funny magnets
Cat Butt Magnets, Set of 6
Kikkerland
amazon.com
$17.00
Hanging things on their fridge will be so much more fun with these magnetic cat butts. Trust me. 
26
a sequin Danny DeVito pillow
Magic Reversible Throw Pillow
Danny DeVito, I love your work! Give your friend the ultimate surprise with a sequin pillow that reveals the actor's face when you brush the fabric up.
27
a trivia game
Things They Don't Teach You in School Party Trivia Game
Hygge Games
amazon.com
$20.00
Everyone loves a good game of trivia! This game has tons of useless facts you'll (hopefully) remember. 
28
a problem-solving flowchart book
The Best Damn Answers to Life's Hardest Questions: A Flowchart Book
Tess Koman's debut book can answer all your burning questions—like, "Should I wear a bra?" and "Should I cancel my plans?"—all while making you laugh and say, "OMG, yep, that's exactly what I should do."
29
cozy narwhal slippers
Unicorn Animal Slippers Fuzzy House Slippers
Whoever is lucky enough to receive fluffy animal slippers will have the priceless gift of warm feet all winter long.
30
a mermaid blanket
Mermaid Tail Blanket
There's always one item that everyone steals in these gift exchanges, and you already know that a mermaid-tail throw blanket is totally THAT present.
31
an insulated shower beer holder
Shower Beer Holder
Shakoolie
amazon.com
$13.97
They'll stay in the shower even longer with a fun suction-cup beer holder, so they can drink and get themselves clean at the same time.
32
a mini desk humidifier
Mini Humidifier
LEMBO DIRECT
amazon.com
$13.99
Their desk (or car or anywhere this fits, really) will be so relaxing with a baby humidifier, especially as the weather gets drier outside.
33
a cheesy holiday sweater
Christmas Reindeer Snowflakes Sweater Pullover
It's not a white elephant gift exchange without at least one Christmas sweater, and this classic line from Home Alone does just the trick.
34
a soda-top PopSocket
PopGrip, Crack a Cold One
A realistic image of the top of a soda can will add a cool look to their phone with the convenience of a good grip.
35
a set of colorful shot glasses
Color Changing Mood Plastic Shot Glass
These shot glasses change colors depending on the temperature of whatever alcohol is put inside them. Like a mood ring, but, you know, for adults. 
36
a love spell book
Cosmopolitan Love Spells: Rituals and Incantations for Getting the Relationship You Want
Cosmopolitan
amazon.com
$12.70
For those who are a bit unlucky in love, this book is a lighthearted gift that looks cute on a coffee table but also has unique rituals to snag a bae.
37
Drunk Elephant minis
Time to Wake Up™ Vitamin C + Hydration Serum Duo
Mini skincare items are great if you don't want to drop a ton on the full-size versions. This serum duo from Drunk Elephant will def be a popular present to swipe.
38
a pretty nail polish set
Mini Nail Polish Set
Nicole Miller New York
amazon.com
$16.49
If your friends never go without their nails painted, they need this gorge set of shimmery, bold polishes.
39
a fancy drinking game
PROSE-PONG Prosecco Pong Bachelorette Party Drinking Game
Talking Tables
amazon.com
$19.48
Who wants to play beer pong out of Solo cups when you can be sophisticated and drink prosecco out of mini champagne coupes? The game even comes with little pink ping-pong balls!
40
a multicolor corkscrew
Double-Hinged Corkscrew, Mirage
Bringing a corkscrew to a white elephant gift exchange is never a bad idea. Plus, the colors on this one will definitely make it a hot-ticket item.
41
a drink bell
Coffee/Cocktails Ding Ding Bell
Knock Knock
amazon.com
$14.14
Be careful of which person ends up with this bell, because they might ring it constantly—once for coffee and two times for cocktails.
42
a bingo game for cat lovers
Cat Bingo
Marcel George
amazon.com
$27.58
A *purrfect* present for a cat-loving crowd, this bingo game features 64 breeds from all over the world.
43
an umbrella with a play on words
Raining Men Clear Bubble Dome Umbrella
Whoever receives this white elephant gift will be singing "It's raining men!" All. Night. Long. And it'll come in handy when it actually does rain.
44
a book of punny cocktail recipes
Tequila Mockingbird: Cocktails With a Literary Twist
By Tim Federle
amazon.com
Whether or not you're obsessed with the classics, everyone can appreciate the genius of these literary cocktail puns and recipes—and they'll also love the fact that the book is in an adorable mini size.
45
a fun key tag
Not Today Satan Motel Key Tag
FLODANCER
amazon.com
$6.99
This mantra will get anyone through a particularly rough day.
46
a glass for *that* person
Wine Snob Stemless 11 oz Wine Glass
Can your friend or relative tell the difference between a cab and a merlot? Or better yet, can they tell which region their wine is from? They'll LOVE a glass that makes sure everyone's aware of how much more they know than you.
47
pizza BFF necklaces
Yellow Pizza Slice Chain Necklace
Lux Accessories
amazon.com
$8.95
Give someone a pizza your heart with a golden slice of pepperoni they can wear around their neck at all times. You guys can even match!
This content is created and maintained by a third party, and imported onto this page to help users provide their email addresses. You may be able to find more information about this and similar content at piano.io
Advertisement – Continue Reading Below