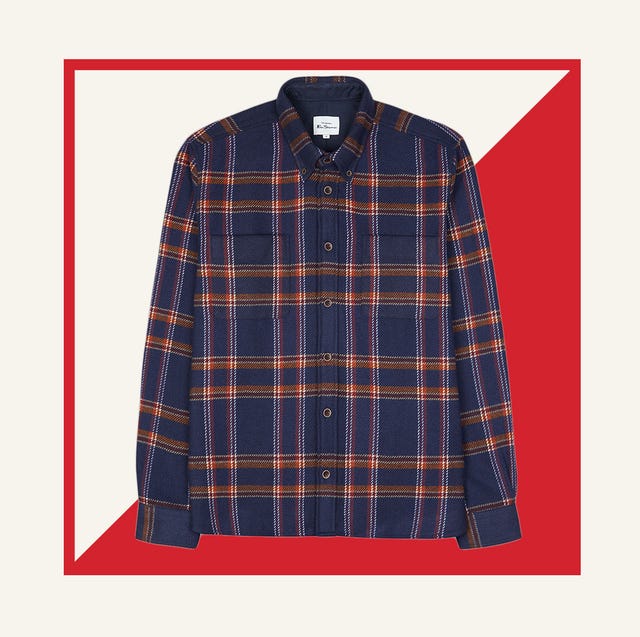 Ben Sherman
Ben Sherman Creative Director Mark Williams often finds himself looking to the past to get inspired for the future. Lucky for him, the brand, founded in 1963, has a rich legacy of its own to draw on. "When you buy into the Ben Sherman brand," he says, "you're buying a piece of heritage and history."
He often starts a collection by thinking of a fashionable trendsetter or youth subculture—this season it was late '70s and early '80s British post-punk and new wave styles—and then reworks them with a contemporary edge. "There are always new ways to twist and re-invent themes with modern trends, but you need to be grounded and stay true to what your brand values are all about."
This fall, there's a blend of formal pieces and more casual sportswear that can be mixed and matched in a variety of ways. But most impressive are the smart takes on classic wardrobe staples that you'll want to wear again and again, season after season. Easily dressed up or down and versatile enough to work with many personal tastes, these are clothes that feel like they've been hanging in your closet for years—and that's the point. Here, we've rounded up just a few of our favorites (trust us, it was hard to pick) and Williams weighs in on what makes them so special.
Advertisement – Continue Reading Below
1
Signature Harrington Jacket
Ben Sherman
bensherman.com
$139.00
Lightweight outerwear is the best part of fall, and this classic Harrington jacket is no exception. It hits right at the waist like a bomber, and features Ben Sherman's iconic check lining on the inside for some low-key flair. Fit is key on an iconic piece like this. "You should have room in the shoulder to move comfortably," Williams advises. "And if in doubt about how to select your size or how to wear it, just look at how Steve McQueen wore his."
2
Short-Sleeve Supima Polo Shirt
Ben Sherman
bensherman.com
$69.00
For the perfect amount of retro panache, few things look cooler than a polo shirt. But Williams stresses that the fit is key here. "I like a closer fitting polo that's neat on the shoulder and straight cut through the body," he advises. "When you button the polo shirt to the top, the collar should also fit neatly and close to your neck; you don't want too much room otherwise, the look loses its sharp appeal." Wear it under a jacket (maybe the signature Harrington) on days where the temps go from hot to cold to hot again.
3
Fisherman Sweater
Ben Sherman
bensherman.com
$89.00
The rugged-but-elegant quality of a fisherman sweater makes it a versatile piece that can be styled up or down. "Depending on how cold it might be, I tend to wear it with a T-shirt and the relaxed taper fit chino," Williams says. "On colder days, it's great to drop a nice chambray shirt under it and layer up." The Ben Sherman version is crafted from a wool-acrylic fabric that makes it both warm but breathable and, most crucially, itch-free.
4
Heavy Brush Check Overshirt
Ben Sherman
bensherman.com
$119.00
An overshirt is fall's ultimate layering piece. While it looks like your regular checked shirt—a Ben Sherman signature—this one has a heavier, brushed texture that means it can act almost as a bit of lightweight outerwear but still be worn under a jacket. "We went for an oversized check plaid with a twill construction," Williams says. "Meaning it has a level of authentic texture and character to the cloth."
5
Textured Roll Neck Sweater
Ben Sherman
bensherman.com
$119.00
Turtlenecks are a heritage style for Ben Sherman, and can be worn with practically anything: Jeans, khakis, dress pants—you name it. We know that some men have an aversion to the style (something about it feeling too "stuffy"), but Williams implores you to give it a chance. "Some of the most stylish and confident men in history wore them," he said. "It's an effortless way to dress that also makes a great impact. When you find a good-fitting roll neck, nothing feels and looks better on those winter days."
6
Canvas Trouser
Ben Sherman
bensherman.com
$99.00
These pants are a new silhouette for the brand—they're calling it the relaxed taper—and they've become Williams' personal favorite. "It's nice to have an alternative to the regular straight or skinny fit options that are flooding the market," he says. "And because it narrows a little towards the ankle, you have a contemporary silhouette that looks modern yet very wearable." Made in a rich, very autumnal-appropriate shade of "burnt spice" (pumpkin spice?), the fabric is based off vintage military trousers and comes in a mid-weight cotton that's perfect for that transition from warm to cold weather.
7
Slim Taper Vintage Wash Jeans
Ben Sherman
bensherman.com
$109.00
There's nothing more essential to a man's wardrobe than jeans, and this pair, with it's worn-in, vintage vibe, is a must-have. "It's important to have denim that looks and feels like you have owned it for years, and it has become your old faithful," Williams says. The cut, too, is understated but stylish. "The fit is quite modern, a little loose at the thigh yet narrow enough to see your sneakers when rolled up."
This content is created and maintained by a third party, and imported onto this page to help users provide their email addresses. You may be able to find more information about this and similar content at piano.io
Advertisement – Continue Reading Below