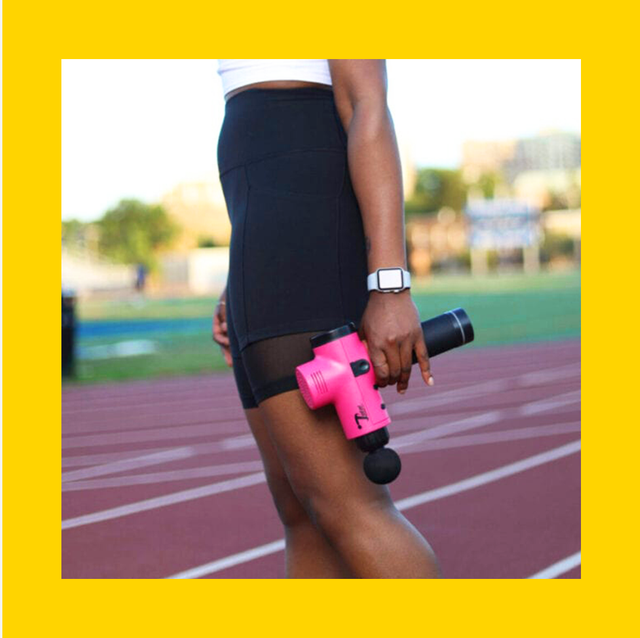 John Francis
Although working from home definitely has its advantages—pajamas as your official 'fit of ze day, sleeping in for an hour more, or having your comfy bed as your desk/office area—but if my back could talk, it would go on and on and on about how much it loathes this newfound sedentary lifestyle. The aches and pains I feel from just being a couch potato with my laptop are equivalent to the ones that my grandmother probably feels after 80 years on this earth. And here I am at 24. Woof.
The ideal solve would be going to a spa for a long, deep tissue massage, buuut since we are currently in a pandemic I'm gonna say no to that. Enter, massage guns, aka a way to have a live-in masseuse for all your throbbing and cramping needs. At first, it may come off as a lot and a bit intimidating but I promise it's a worthwhile investment. Ah, self-care.
Massage guns are clutch because you can easily grab the device, move it around the desired spot, and trust that its vibrating powers will reduce any muscle fatigue or stiffness. It'll also help with building up your range of motion and flexibility! So if your shoulders, back, neck, arms, legs, or any part of your body hates you because of this WFH situation, check out one of these magical massage guns here.
Advertisement – Continue Reading Below
1
This Miniature One
Portable Muscle Treatment Massage Gun
TheraGun
Theragun
$199.00
What's so cool about the Theragun mini is that it literally fits in your pocket. It's small, but mighty! With three different speeds, you can say goodbye to those annoying knots instantly.
2
This Customizable One
Handheld Percussion Massager
This lightweight massage gun has a powerful motor that barely makes a sound so you can have a relaxing experience. It also comes with six attachments that allows you to customize your lil muscle therapy sesh.
3
This Really Professional One
Deep Tissue Muscle Massager
LifePro
amazon.com
$204.99
You know this one is good because it was made for athlete recovery and chiropractic therapy. The very professional tool has nine intensity levels, seven massage heads, and long-lasting battery charge. Talk about all in one!
4
This Super Cute, Yet Very Effective One
Total Massage Gun
Total Massage Gun
totalmassagegun.com
$149.00
How can you not snag this for yourself?! It's PINK! We guarantee it'll be your body's best friend with its strong motor and multi-grip handle that'll allow you to get those sore hard-to-reach spots. 
5
This Five-Star Rated One
IMPACT Percussion Massage Gun
TriggerPoint
dickssportinggoods.com
$199.99
If you're looking for a massage gun to do allll the jobs, look into this one. It's guaranteed to loosen up those tense muscles and accelerate your warmup and recovery. 
6
This Flexible One
R4 Pro Massage Gun With Adjustable Arm
I know this one looks more intimidating than the others on this list, but that's because the R4 Pro has five adjustable angles to rotate the heads. It's also sooo handy because it comes with a carrying case and a battery—if it's fully charged—will provide a week's worth of power.
7
This Easy-to-Use One
Portable Electric Deep Tissue Muscle Massage Gun
Apollo Kinetics
amazon.com
I'd say this is the best one to get if you're looking for something straightforward and simple. It comes with the basics: different vibration level settings, head attachments. Plus, I loooove the portability.
8
This Extremely Powerful One
Handheld Deep Tissue Massage Gun
Homech
amazon.com
$109.99
This Homech massage gun is no joke, y'all. The intensity on this will have you feeling like a noodle…in the best way possible. Switch out the heads with the six attachments it comes with if you want to focus on multiple muscle groups.
9
This Popular One
Handheld Deep Tissue Massage Gun
TIMTAM
amazon.com
$249.99
$199.99 (20% off)
The TimTam Power Massager is reputable among coaches, trainers, athletes, and physical therapists all over the world. And the best part? It assures relief of soreness anywhere on your body in just 60 seconds. Yeah, um, I need.
This content is created and maintained by a third party, and imported onto this page to help users provide their email addresses. You may be able to find more information about this and similar content at piano.io
Advertisement – Continue Reading Below