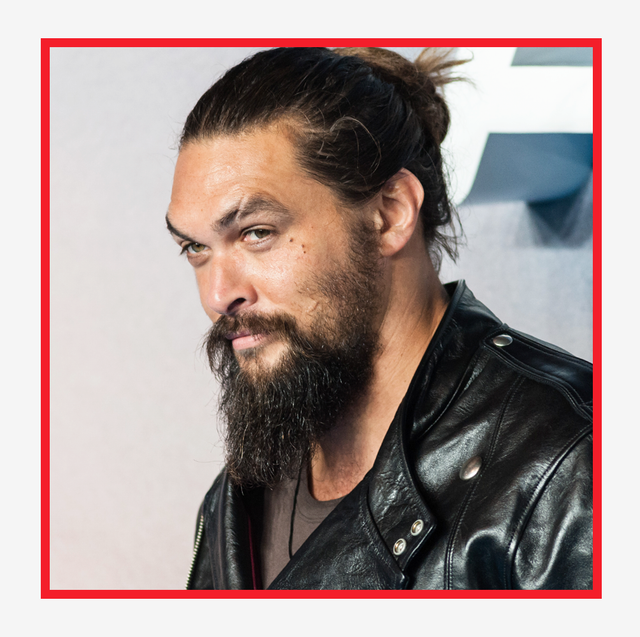 Silk; Getty
The thing that makes Jason Momoa stand out in Hollywood is that he really doesn't…seem like a Hollywood kind of guy. Sure, he's got the piercing eyes and the supreme human looks, but his rough-around-the-edges vibe has never really been softened. He likes it that way. We do, too.
This is embodied best in how Momoa presents himself. What he wears, how he keeps his hair, his signature accessories that are so out of any popular fashion trend that they become their own kind of trend. (He one time wore a pink Fendi scrunchie around his wrist on a red carpet and the internet damn near lost its mind.) Momoa dresses for himself and only for himself. There is simply no pandering to be found.
Momoa's approach to style is simply an extension of how he approaches many areas of life. He likes what he likes. In a recent interview with Men's Health, he revealed some of those sneaky love for random things: pink jackets, top hats, and spoons. He might exist in Hollywood but he has never abandoned his midwestern roots—he loves to rock climb and spend time outdoors.
Here, we rounded up some of the items that best embody the spirit of Jason Momoa, from his signature curls to his pink scrunchies to his favorite artists on vinyl. If there's one cue you take from him, it's that a style like his—this spirit, if you will—is not just in what you wear but in everything you attract. Here's where to start.
Advertisement – Continue Reading Below
R+co Rockaway Salt Spray
Jason Momoa's signature hairstyle is part of that look he takes everywhere he goes. He is Hawaiian, after all, and those curly, beachy locks never let us forget it. When a morning ocean dip isn't an option, a sea salt spray is a solid second one. 
Boll & Branch Chunky Knit Throw Blanket
bollandbranch.com
$125.00
Of course, Jason Momoa's car has a busted seat and of course that busted seat is masked with a red blanket. There's something kind of sweet about such a crude quick fix. 
Pure Silk 3-Pack Large Scrunchies
Momoa loves a scrunchie and we'd all be a little better off if we just leaned into it. It makes for an easy way to pull back hair in case of intense winds outside, or a good wrist accessory should you, too, decide to wear one a proverbial red carpet. 
Miansai Square Step Ring
Momoa loves a host of jewelry, to the point that stacking and mixing necklaces, rings, and bracelets is a common part of his look. Start small, with a simple and cool signet ring and build from there. 
Elvis Presley Vinyl
Did you know Jason Momoa loves Elvis? Well, now you do. He paid homage by getting a quote "flamboyant Cadillac" in honor of him. An album will do, too. 
Towle Silversmiths Place Spoon
Momoa used to go antiquing with his mom and he appreciates the hell out of a well-made item. An old-school spoon, for example. 
Topman MA1 Bomber Jacket
If there's one thing to note about Jason Momoa's style, it is that he loves to wear pink. He has a closet of pink coats and some of his signature red carpet 'fits have been full-on pink. We like a pink bomber as a starter piece. 
Lululemon The Reversible Mat
Momoa also told MH that, "I tried yoga the other day, and it was the hardest thing I've ever done in my life. I'd rather squat a car." But he is trying, and that's what matters. 
Oupeng Sky Carabiner Clip
You don't need to actually go rock climbing to embody some of that outdoor activity spirit Momoa brings wherever he goes. Keys on a carabiner clip symbolize the sport without having to do it. 
This content is created and maintained by a third party, and imported onto this page to help users provide their email addresses. You may be able to find more information about this and similar content at piano.io
Advertisement – Continue Reading Below