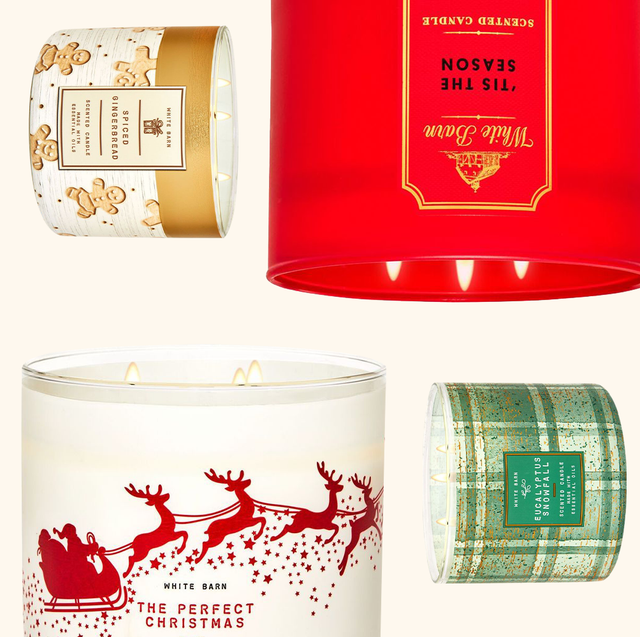 Raydene Salinas Hansen
Much like a toasty fire and Vanessa Hudgens triumphantly playing three different characters, holiday candles are one of the hallmarks (yes, pun intended) of the season. Specifically, that of the overwhelmingly festive Bath & Body Works variety.
But I need to confess something: I've never been a huge candle person. Sure, I've always had candles around that were given to me as gifts because I was too anxious to toss 'em in fear of hurting the candle-giver's feelings (yes, I'm working through that thank you for the concern). Still, they sat un-lit.
Cue, 2020: I moved in with my significant other a few months ago, and for our first holiday season (in this rather memorable, rather…indoorsy year), I decided to lean into every Instagram-ad standard of what it means to create a "home." That means candles! And lots of 'em!
So what better way to dive headfirst into my newfound ~candlehood~ than by testing out the best, brightest, coziest, and downright mystical scents of the holiday season by Bath & Body Works? The result: My apartment smells like paying Manhattan rent to live within four gingerbread walls.
Without further ado, my beginner-but-now-expert-level ranking of the 2020 holiday candles from the scent mecca: Bath & Body Works.
Advertisement – Continue Reading Below
1
the one ring to rule them all
The Perfect Christmas
Bath & Body Works
bathandbodyworks.com
$24.50
Of COURSE this is the #1 spot. Guys, it's the perfect Christmas! I'm not kidding! She has every smell of the holiday season! Go, go SPEND YOUR MONEY and have everything smell objectively like every bit of the holiday season: cinnamon, pine, and toasted marshmallow. Even the Scroogiest of the Christmas Scrooges will literally melt. I can't wait to finish it so I can buy it again and again and again. 
I tried out this candle after a particularly terrible day at work and I swear it was just like that scene where the Grinch's heart grew three sizes. 
Bath & Body Works
bathandbodyworks.com
$24.50
You know how on Scandal Olivia and Fitz have their whole "Vermont" dream of running away together and living a private life in a log cabin mansion? Yeah, this is what that smells like. It's true woodsy love in a knit cardigan. Think: lots of pine and lots of clove. I wonder if Shonda was consulted?
The only reason why "Winter" is not in the top spot is because it's just not as blatantly festive as "The Perfect Christmas" and we're ranking holiday candles. But bonus points because I think you can burn her any time. (My boyfriend says I'm wrong but he's not the one writing this, so suck on that.)
3
your favorite dessert
Peppermint Sugar Cookie
Bath & Body Works
bathandbodyworks.com
$24.50
I have nothing else to say other than this smells like a mint Milano and I LIKE IT A LOT, OKAY?
4
if the gingerbread man was your contractor
Spiced Gingerbread
Bath & Body Works
bathandbodyworks.com
$24.50
I lit this waxy goodness while watching Dash & Lily on Netflix (a pure, low-stakes delight that my pretentious teenage self would have eaten up if it came out in 2010). Cozy? Check. Warm? Check. Festive? Duh. 
When I woke up the next morning my apartment STILL smelled like this. I was not mad about it. 
5
better than coffee
Twisted Peppermint
Bath & Body Works
bathandbodyworks.com
$24.50
I woke up early on a Saturday morning to phone bank on behalf of Fair Fight Action for the Georgia Runoff elections and needed something other than coffee to get my mind up and moving. Surprisingly, it was this very minty, very soft holiday candle. Who knew! 
6
mom-approved
White Eucalyptus & Sage
Bath & Body Works
bathandbodyworks.com
$24.50
Very peaceful and calming—just like walking into a Pottery Barn and leaving with exactly one furry white blanket, one wreath, and four glittery bottlebrush trees. It's an aesthetic that I would like to be buried in, thank you. 
7
a cavity that you specifically asked for
Pink Fairy Gumdrop
Bath & Body Works
bathandbodyworks.com
$24.50
Okay, I was so sure this would be at the bottom of my list because overly sugary, sweet scents are not my thing. But after about eight minutes or so, I realized that this is stunning and I love it so? Who knew cotton candy and sugared berries would smell like the pink fairy gumdrop of my sugarplum dreams? (Bath & Body Works, they did.)
8
if you want to live in the woods
Fresh Balsam
Bath & Body Works
bathandbodyworks.com
$24.50
Reader, I audibly gasped "Oh!" when the sweet smells of woodland balsam, crisp eucalyptus, fir, and cedar took over my apartment. Are wedding scents a thing? Because this is what I want my wedding to smell like. 
9
the double duty
'Tis the Season
Bath & Body Works
bathandbodyworks.com
$24.50
On my first, unlit waft I was concerned everything would suddenly smell like Red Hots. After lighting it, it smelled less like Red Hots but still spicy and cinnamon-y! I loved it a *lot* more than I thought I would. And it doubles as simple festive decor. 
10
refresh your life
Tree Farm
Bath & Body Works
bathandbodyworks.com
$24.50
Oh, she's nice. Like, NICE nice. I grew up in New York City, so I never got to experience the whole giant tree farm thing that is basically Taylor Swift's entire holiday aesthetic, but I think I get it now? All thanks to the sweet mix of pine needles and spiced apple.
11
if you love spas but are broke
Eucalyptus Snowfall
Bath & Body Works
bathandbodyworks.com
$24.50
Are there better candles at Bath & Body Works? Yes. Will you regret this one? Absolutely not. It's spearmint and lavender mixed together so I'm sure your S.O.'s mom is going to looooove it. 
12
for the traditionalist
Merry Cookie
Bath & Body Works
bathandbodyworks.com
$24.50
Pro tip: Light this one while baking to cover up anything you burnt with the smell of actual sweet cookies and vanilla. Just do it and we can DM about it later.
13
if your first crush used irish spring
Mahogany Balsam
Bath & Body Works
bathandbodyworks.com
$24.50
Hello, fresh! The spearmint and balsam scent was strong, but the real crowd-pleaser here is how the melted wax looked like the creature from the black lagoon was about to crawl up out of it. Yes, I stared at it for way too long instead of writing this very ranking. 
14
better than real eggnog
Salted Caramel Eggnog
Bath & Body Works
Bath & Body Works
$14.50
Fair warning: You can't get anything productive done while burning this delight of caramel, salt, and whipped cream on a cold day. Sorry, I don't make the rules. Bath & Body Works does.
15
to get you in le mood
You're the One
Bath & Body Works
bathandbodyworks.com
$24.50
Minus a ton of points for the not-explicitly-seasonal vibes because, again, that's what this ranking is about.
However, the scent is Bath & Body Works at its purest: slathered all over yourself after before heading to the middle school dance in your finest capri leggings. The white birch, velvety rose, and pungent strawberry made my adult boyfriend kiss me just, like, a lot and inexplicably start singing Jesse McCartney's iconique banger "Body Language"—save this bb for Valentine's Day.  
16
a low-stakes delight
Gingerbread Marshmallow
Bath & Body Works
bathandbodyworks.com
$24.50
Honestly I forgot I had a candle burning with this one. But when I *did* remember, I liked it. It's cute because it literally smells like a marshmallow was bathed in gingerbread and dipped in eggnog.
17
a fruity, sweet, enjoyable headache
Champagne Toast
Bath & Body Works
bathandbodyworks.com
$24.50
Like every candle on this list, "Champagne Toast" is generally nice but this one isn't for the faint of heart because it smells like all the berries in all the world at once.  I don't recommend if you're hungover or get headaches easily (hi, me!), but I do recommend if cooking fish or if generally burning dinner is your thing.
Side note: That mouse is a visual representation of me smelling alllll of these candles for you. It's like they knew. 
18
bring out the chilled ice skates
Frozen Lake
Bath & Body Works
bathandbodyworks.com
$24.50
Look, the site says it has notes of lavender, eucalyptus, and juniper berries but it really smells like the Axe body spray your first real crush wore. 
This content is created and maintained by a third party, and imported onto this page to help users provide their email addresses. You may be able to find more information about this and similar content at piano.io
Advertisement – Continue Reading Below