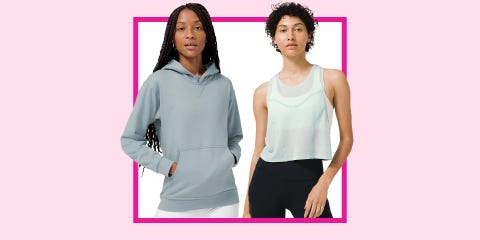 Lululemon
Everyone has that one pair of leggings they wear over and over again, and for most of us, that pair is from Lululemon. I've tried out plenty of workout tights and while some other leggings come close, none can quite match the luxury feel, major butt uplift, and unbeatable comfort of a classic pair of Lulus. But, as all fans know, that comfort comes with a hefty (but 100% worth it) price tag. Thankfully, a national shopping holiday is on the horizon and Lululemon will likely be offering some amazing specials for the occasion.
The brand always keeps their big shopping events under-wraps, so they haven't yet confirmed what we can expect for this holiday season. BUT, for last year's Black Friday and Cyber Monday festivities, the athleisure retailer served up specials on all of their most beloved products – everything from their fan favorite Wunder Under Tights to my personal favorite Align Pant – so it seems likely they'll treat us to the same magic in 2020.
Now, November 27 is still pretty far away, but don't worry – you don't actually have to wait that long to shop. *Gasp!* Yep, Lululemon has a huge sale section year-round, with low prices on all your favorite items (read: leggings). While we wait for those Black Friday finds, stock your entire workout wardrobe with Lululemon hoodies, shorts, T-shirts, jackets, and more.
Advertisement – Continue Reading Below
1
Wunder Train High-Rise Tight 25″ Wash
Lululemon
lululemon.com
$98 $79 (19% off)
You definitely don't need another pair of leggings… but you could definitely use a pair of tie-dye leggings.
2
Adapt to You Tank
Lululemon
lululemon.com
$49 $24 (50% off)
You can always, always, ALWAYS use a new go-with-everything black top. That's just a fact.
3
Bestseller
All Hours Backpack
Lululemon
lululemon.com
$128 $59 (54% off) 
Shop three different neutral colorways of this reader-favorite pack for only $59. 
4
Align Crop 21″
Lululemon
lululemon.com
$88 $69 (22% off)
I am literally wearing Lululemon's famous Align Pant (in this exact print) as I write this story – that's how good they are. 
5
Seek Vistas 1/2 Zip Jacket
Lululemon
lululemon.com
$148 $89 (40% off)
This is the cool-girl windbreaker you've been searching for your whole life. 
6
Wunder Under High-Rise Tight Full-On Luxtreme 28″
Lululemon
lululemon.com
$98 $79 (19% off)
Ask anyone about Lululemon and chances are you'll be treated to a 20-minute speech about the life-changing fit of the Wunder Under Tight. Shop now to save up to 19% off on this reader favorite legging.
7
Stronger as One Muscle Tank
Lululemon
lululemon.com
$58 $39 (33% off) 
Do gyms give away best-dressed awards? They should, purely because of this cute-as-hell sheer tank.  
8
Editor's Pick
Face Forward Jogger
Lululemon
lululemon.com
$178 $99 (44% off)
Mom, if you're reading this, I think these joggers would make a great addition to my closet.
9
Train to Be Tank Shibori
Lululemon
lululemon.com
$64 $44 (30% off)
Another tie-dye crop top for the collection? Yes, please.
10
Easy Embrace Long Sleeve Sweater
Lululemon
lululemon.com
$138 $99 (28% off) 
Today is the day to invest in a versatile sweater you'll have for years. This cozy knit is on sale for $39 off its original price.
11
Rain Chaser Jacket
Lululemon
lululemon.com
$198 $139 (30% off)
This chic jacket is sportswear meets streetwear in the coolest possible way.
12
On The Beat Belt Bag 4.5L
Lululemon
lululemon.com
$58 $39 (33% off) 
Score this highlighter fanny pack at $19 off the original price.
13
Invigorate High-Rise Tight 25″
Lululemon
lululemon.com
$128 $99 (23% off)
Built-in pockets, a seamless fit, and they're on sale? It's the gold standard of Lululemon bargains.
14
Fast and Free Tight II 25″ Nulux
Lululemon
lululemon.com
$128 $89 (31% off) 
HURRY! These seamless leggings are still in stock in sizes 2-10. Shop them now at $39 off.
15
Varsa Hoodie Mesh
Lululemon
lululemon.com
$148 $94 (36% off) 
This cropped hoodie looks just as good at the gym as it does under a posh boyfriend blazer. 
16
Pool Play Full Bum One-Piece Online Only
Lululemon
lululemon.com
$128 $79 (38% off)
Can you wear a swimsuit as a bodysuit? Asking for a friend (myself). 
This content is created and maintained by a third party, and imported onto this page to help users provide their email addresses. You may be able to find more information about this and similar content at piano.io
Advertisement – Continue Reading Below