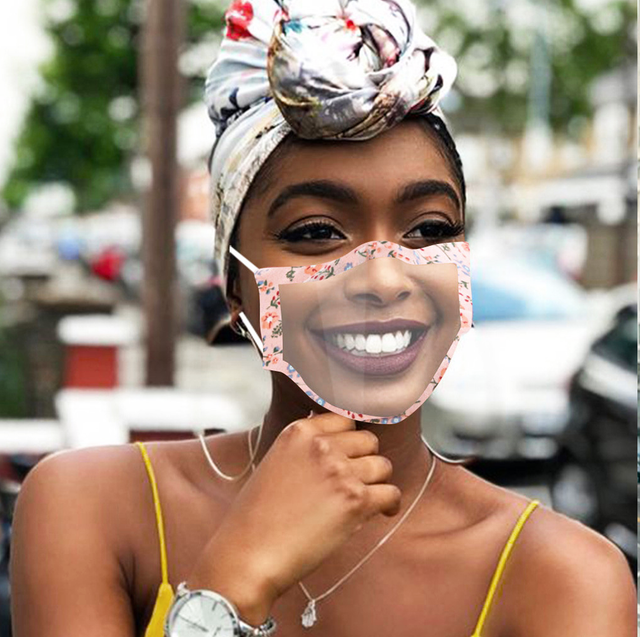 john francis
Face masks have become 2020's 'it' accessory since the outset of the pandemic, per the Centers for Disease Control. Not only can they totally make an OOTD, but they also help prevent the spread of respiratory droplets, which is super important RN.
Face masks tend to be categorized as universal, but unfortch—like most things in life—one size doesn't fit all (ugh!). Clear face masks benefit the deaf and hard-of-hearing (DHH) community, teachers, and ASL interpreters. The transparent window makes for easy-to-read facial expressions, which reduces miscommunication and provides a bit of relief for DHH individuals. Not to mention, everybody can use a smile, right?
And, as always, with all face masks, you gotta keep that baby clean. Don't forget to wash and sanitize your masks and hands and avoid touching your face. Now, let's go shoppin' for the best clear face masks that will highlight that pretty lil' smile and adorable lip you've been dying to show off.
Advertisement – Continue Reading Below
1
THE 100% CLEAR ONE
100% Clear Face Mask
SachikaBoutique
etsy.com
$15.00
For the days when your makeup is snatched. Because, let's be honest, the world needs to see. 
2
THE FDA-APPROVED ONE
Medical Grade ClearMask
This a time that we need to take extra precautions. The Medical ClearMask is FDA-Approved, ensuring both safety and better communication for all. 
3
THE ANTI-FOG ONE
Vent Clear Window Mask
ZangplusArtStudio
etsy.com
$7.90
Any glasses girl wearing a mask knows how annoying foggy lenses can be. Unfortch, the same thing can happen with a transparent mask. The vent on this one clears that issue right up. Problem solved!
4
THE FLORAL ONE
Transparent Visual Mask
The cutest little mask for the cutest of gals. How gorge is this floral one?
5
THE GINGHAM ONE
Clear Window Face Mask
Futomcop
amazon.com
$13.99
Speaking of cute, this gingham one is to die for. Honestly, I might just have to get both.
6
THE ONE WITH AN EYE SHIELD
Eyeshield Visual Face Mask
GeoxaralTreasures
etsy.com
$12.10
Whether your work requires an eye shield, or you want to take extra precautions, this is the mask for you. Plus, it comes in a ton of adorable patterns. Hi, stars! I see you.
7
THE POPULAR ONE
The Smile Communicator Clear Mask
cottonpurr
etsy.com
$28.00
Almost 5,000 sales on Etsy earn this mask a spot on the list. ANDDD, it's homemade so it's a great opportunity to support a small business.
8
THE ONE WITH A TON OF PRINTS
Clear Window Mask
DELUXEMASK
etsy.com
$13.95
Grab yourself a trendy cheetah print one. Or a floral one. Or a paisley one. Time to go shopping.
9
THE CLASSIC ONE
Reusable Washable Fashion Masks
Need a mask to go with everything? Grab one of these bad boys and always have your little black mask on hand.
This content is created and maintained by a third party, and imported onto this page to help users provide their email addresses. You may be able to find more information about this and similar content at piano.io
Advertisement – Continue Reading Below