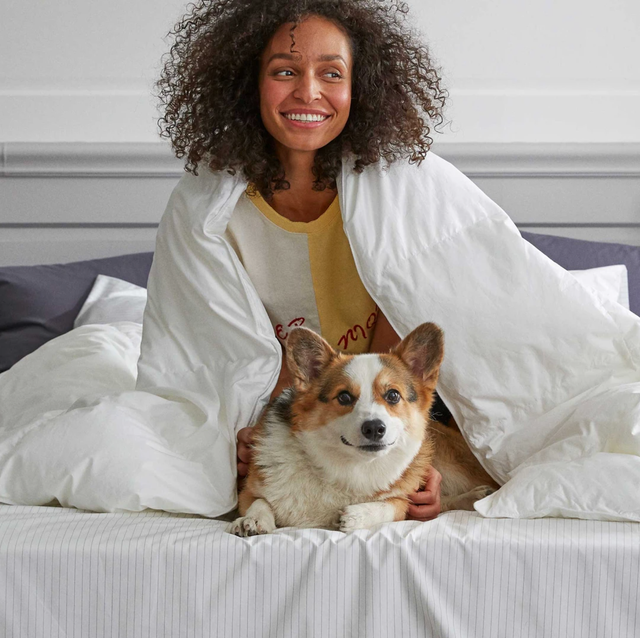 brooklinen
Good news for everyone who's spending an ungodly amount of time in bed (yes, hi, hello): Brooklinen just kicked off its President's Day sale. Starting today the direct-to-consumer brand is taking up 15% off almost everything.
IYKYK how big of a deal this is. If you don't: Brooklinen is sorta famous for high-quality and suuuper soft sheets at a fair, affordable price. Like, even if you are living under a rock, it's probably lined with Brooklinen's dreamy percale bedding. Just sayin'.
If you want to bring the Brooklinen aesthetic into every facet of your life, now's a great time to stock up on its plush towels, hotel-quality robes (!), and chic loungewear. (Have I justified this sale for you?!) To help, check out the best deals worth adding to your e-cart.
Advertisement – Continue Reading Below
1
Luxe Core Sheet Set
Brooklinen
Brooklinen
$139—$189 $118.15—$160.65  (15% off)
With a buttery soft texture and lustrous finish, its sateen sheets are a consistent crowd-pleaser.
2
Adelphi Jumpsuit
Brooklinen
brooklinen.com
$68 $57.80 (15% off)
Believe it or not, it's possible to have sweatpants fatigue. If you want to upgrade your WFH look, but don't want to compromise comfort, this cozy jumpsuit is a happy medium.
3
Heathered Cashmere Core Sheet Set
Brooklinen
brooklinen.com
$279—$299 $237.15—$254.15 (15% off)
If you want to stay extra cozy this winter, these cashmere sheets are the bedding equivalent to your fave sweater.
4
Mulberry Silk Eyemask
Brooklinen
brooklinen.com
$29 $24.65 (15% off)
ICYMI, this eyemask has a lot more to offer than some much-needed shut-eye. The Mulberry silk used here doesn't pull moisture away from your beautiful face.
5
Waffle Bath Towels
Brooklinen
brooklinen.com
$59 $50.15 (15% off)
Just because your towels have a practical purpose (you know, to dry you off) doesn't mean they can't be cute. Not are these waffle towels look great, but they're also made with a lightweight, quick-drying material.
6
Throw Blanket
Brooklinen
brooklinen.com
$189 $160.65 (15% off)
Go ahead, upgrade your next Hulu and chill session with this cozy throw blanket.
7
Linen Core Sheet Set
Brooklinen
brooklinen.com
$259 — $289 $220.15—$245.65 (15% off)
First, yeah, they look GOOD. But they're also a perfect match for anyone who runs hot when they sleep.
8
Super-Plush Robe
Brooklinen
brooklinen.com
$98 $83.30 (15% off)
Sorry, Dorothy, as much as we love our homes, there's no place like a fancy, five-star resort. Since you can't travel — cue Lauren Conrad's single, mascara tear — this plush robe will give your space some hotel vibes.
9
Down Alternative Pillow
Brooklinen
brooklinen.com
$59.00
$59—$79 $50.15—$67.15 (15% off)
Behind every cozy bed is a supportive pillow. With three levels of plushness to choose from, there's an option no matter how picky you are.
10
Scented Candle
Brooklinen
brooklinen.com
$35 $29.75 (15% off)
Create some mood lighting with one of Brooklinen's candles. With sultry notes of bourbon and blood orange, the Nightcap scent is lit. (Sorry, had to.)
This content is created and maintained by a third party, and imported onto this page to help users provide their email addresses. You may be able to find more information about this and similar content at piano.io
Advertisement – Continue Reading Below