Team USA enters the Olympics in Tokyo as the three-time defending gold medal winner, but is coming off a disappointing seventh-place finish at the 2019 FIBA World Cup, the worst finish ever in a major international competition by a team from the United States.
Despite finishing seventh in China, Team USA has already qualified for the Olympics, which have been postponed due to the coronavirus pandemic. Team USA earned its spot by virtue of being one of the top two finishers from the Americas region at the World Cup. Six other teams qualified based on their World Cup finish, joining the U.S. and host nation Japan in the field for Tokyo. The final four spots in the field will be determined by four separate six-team qualifying tournaments to be held in June and July 2021.
MORE: What moving the Tokyo Olympics means for the NBA and Team USA

Olympic Qualifying Tournaments
June 29-July 4
Belgrade, Serbia
Group A: Dominican Republic, New Zealand, Serbia
Group B: Puerto Rico, Italy, Senegal
Kaunas, Lithuania
Group A: Lithuania, Korea, Venezuela
Group B: Poland, Slovenia, Angola
Split, Croatia
Group A: Germany, Russia, Mexico
Group B: Tunisia, Croatia, Brazil
Victoria, Canada
Group A: Greece, China, Canada
Group B: Uruguay, Czech Republic, Turkey

Tokyo Olympics Schedule
July 25-August 1: Group stage
August 3: Quarterfinals
August 5: Semifinals
August 7: Gold-medal and bronze-medal games
---
Qualified Nations
Argentina
Australia
France
Iran
Japan
Nigeria
Spain
United States
---
Latest news
• U.S. men's hoops to play France first at Olympics
• Tokyo Olympics officially postponed until 2021
• FIBA telling basketball players to stay inside
• Canada won't send athletes to Olympics if they're held in 2020
• Kerr: Team USA coaches still planning on Tokyo
• Popovich wants Durant in Olympics only if fully healthy
• LeBron on star-studded list of US Olympic finalists
• Warriors' Mike Brown to coach Olympic-bound Nigeria
• Aussies to bring back 76ers' Brett Brown as national coach
• Canada, Croatia, Lithuania, Serbia selected to host Olympic men's basketball qualifying
---
Who's in, who's out
On March 11, 2021, USA Basketball announced an updated list of 57 finalists for the Tokyo Olympics roster. Of that list, 42 players were originally named to the player pool on Feb. 10, 2020:
Bam Adebayo, Miami Heat
LaMarcus Aldridge, San Antonio Spurs
Harrison Barnes, Sacramento Kings
Bradley Beal, Washington Wizards
Devin Booker, Phoenix Suns
Malcolm Brogdon, Indiana Pacers
Jaylen Brown, Boston Celtics
Jimmy Butler, Miami Heat
Mike Conley Jr., Utah Jazz
Stephen Curry, Golden State Warriors
Anthony Davis, Los Angeles Lakers
DeMar DeRozan, San Antonio Spurs
Andre Drummond, Cleveland Cavaliers
Kevin Durant, Brooklyn Nets
Paul George, LA Clippers
Draymond Green, Golden State Warriors
James Harden, Houston Rockets
Montrezl Harrell, Los Angeles Lakers
Joe Harris, Brooklyn Nets
Tobias Harris, Philadelphia 76ers
Gordon Hayward, Charlotte Hornets
Dwight Howard, Philadelphia 76ers
Brandon Ingram, New Orleans Pelicans
Kyrie Irving, Brooklyn Nets
LeBron James, Los Angeles Lakers
Kyle Kuzma, Los Angeles Lakers
Kawhi Leonard, LA Clippers
Damian Lillard, Portland Trail Blazers
Brook Lopez, Milwaukee Bucks
Kevin Love, Cleveland Cavaliers
Kyle Lowry, Toronto Raptors
JaVale McGee, Cleveland Cavaliers
Khris Middleton, Milwaukee Bucks
Donovan Mitchell, Utah Jazz
Victor Oladipo, Houston Rockets
Chris Paul, Phoenix Suns
Mason Plumlee, Denver Nuggets
Jayson Tatum, Boston Celtics
Myles Turner, Indiana Pacers
Kemba Walker, Boston Celtics
Russell Westbrook, Washington Wizards
Derrick White, San Antonio Spurs
Marcus Smart and Klay Thompson were on the original list in Feb. 2020, but did not make the cut for the March 2021 player pool.
The 15 players added to the pool in March are:
Jarrett Allen, Cleveland Cavaliers
Eric Gordon, Houston Rockets
Jerami Grant, Detroit Pistons
Blake Griffin, Brooklyn Nets
Jrue Holiday, Milwaukee Bucks
DeAndre Jordan, Brooklyn Nets
Zach LaVine, Chicago Bulls
Julius Randle, New York Knicks
Duncan Robinson, Miami Heat
Mitchell Robinson, New York Knicks
Fred VanVleet, Toronto Raptors
John Wall, Houston Rockets
Zion Williamson, New Orleans Pelicans
Christian Wood, Houston Rockets
Trae Young, Atlanta Hawks
Multiple players who were in training camp for USA Basketball but withdrew from consideration prior to the 2019 World Cup were not included on the list of finalists for Tokyo 2020: Marvin Bagley III (Kings); De'Aaron Fox (Kings); CJ McCollum (Blazers); Paul Millsap (Nuggets); P.J. Tucker (Rockets).
Among players who weren't in China, many big names expressed their interest in returning to the roster. However, it remains to be seen how the COVID-19 pandemic and the compressed 2020-21 NBA schedule will affect their decisions:
• Jimmy Butler (Heat): At his introductory news conference in Miami, Butler said he would "most definitely" consider playing in the 2020 Olympics.
Butler played for USA Basketball at the Olympics in 2016.
• Stephen Curry (Warriors): "That is the plan, for sure. You know, obviously knock on wood, you don't want any injuries or things like that to interfere."
Curry played for USA Basketball at the World Cup in 2010 and 2014. He has not played in the Olympics.
• Anthony Davis (Lakers): "I want to play USA Basketball. If I get the opportunity to do so, if they invite me, I definitely would love to do so."
Davis played for USA Basketball at the Olympics in 2012 and at the World Cup in 2014.
•Paul George (Clippers): "I would love to. Hopefully, god willing, I can get through a season healthy. And when that time comes, I would love to be part of the Olympics and represent. But this comes first, obviously. And getting through this year, giving everything to this year. Hopefully, by June, we're the last team standing and I'll deal with it at that point. It doesn't really matter if we go all the way. As long as I'm healthy — when I get to that point and I'm healthy, I'm in. I want to be part of that group."
George was injured playing for USA Basketball in the summer of 2014.
•Draymond Green (Warriors): "I definitely want to play in the Olympics next year. I'm actually planning my wedding around it."
Green played for USA Basketball at the Olympics in 2016.
• James Harden (Nets): "It's one of my goals to represent this beautiful country."
Harden played for USA Basketball at the Olympics in 2012 and at the World Cup in 2014.
• LeBron James (Lakers): "I would love to. … I will address that at some point."
James played for USA Basketball at the Olympics in 2004, 2008 and 2012 and at the World Cup in 2006.
•Kawhi Leonard (Clippers): "I do want to play but I'm taking it one step at a time. And right now it is getting the Clippers to the Finals.
Leonard has yet to play for Team USA in major international competition.
• Damian Lillard (Trail Blazers): "I plan on being a part of that. I plan on playing."
Lillard has yet to play for Team USA in major international competition.


Team USA finished World Cup play with a win over Poland to finish seventh, their worst finish ever in a major event. Now what? Will superstars come to the rescue next summer in the Tokyo Games? Don't be too sure.
Read Brian Windhorst's analysis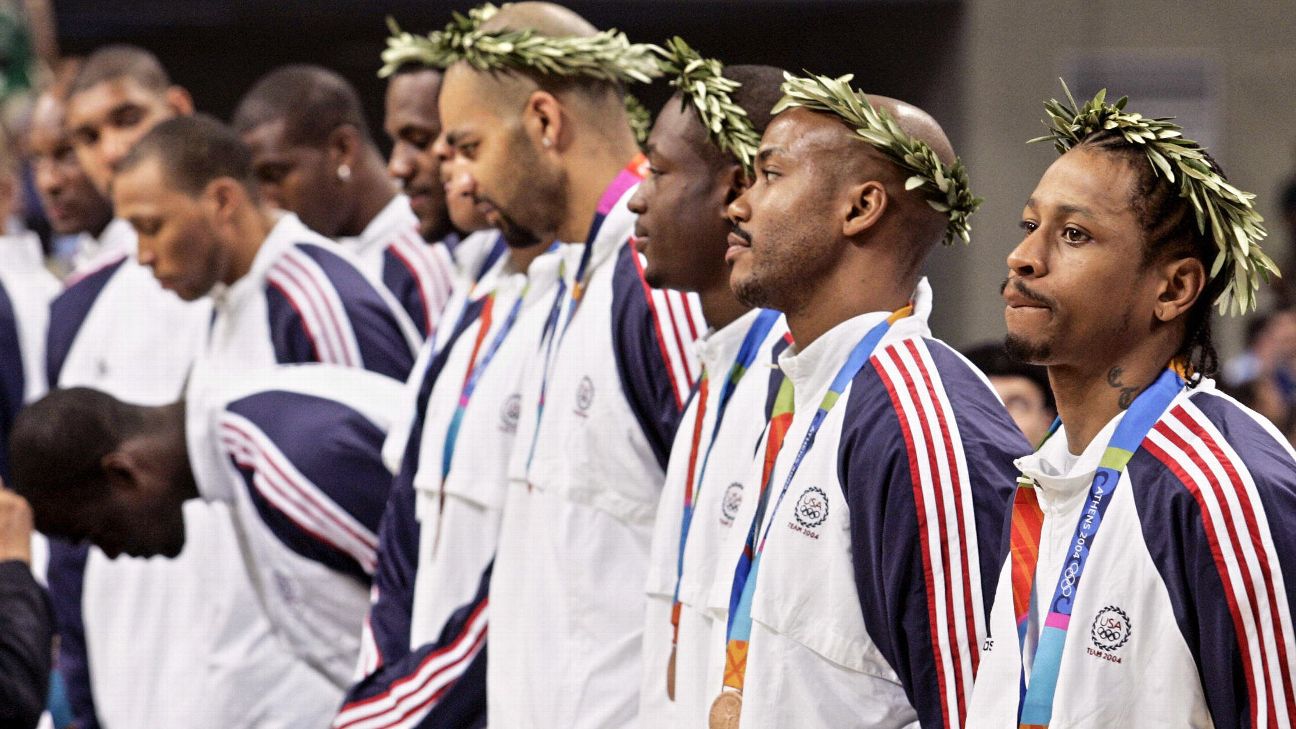 A third-place finish at the 2004 Athens Olympics wasn't just viewed as a failure — it forced USA Basketball to rethink everything.
Read the oral history on the turning point for Team USA.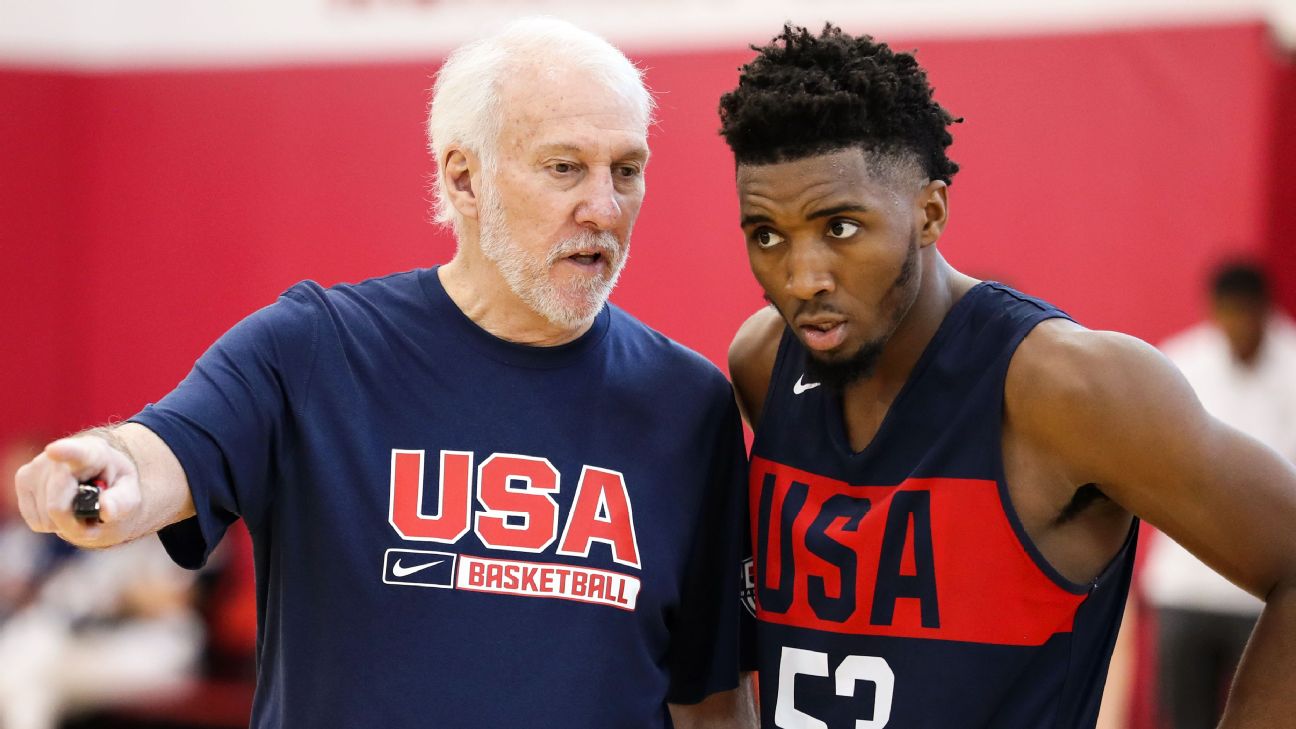 What does Gregg Popovich have left to prove? Putting together this team is a big lift. Leading it to an undefeated run and a world championship is a big ask, even for a living legend with an impeccable record and solid gold reputation. The risk/reward ratio is off. So why is he doing it?