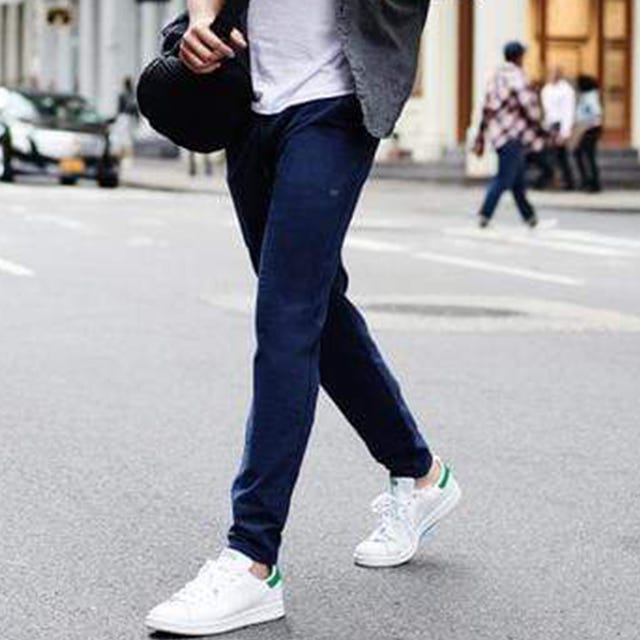 Mack Weldon
It seems like only yesterday we were rolling out of bed and slipping on our track team sweats to rush to first period class. But somewhere over the last several years we grew up, and luckily, our beloved sweats did, too.
Updated, high-quality sweatpants have made it appropriate to sport the casual style outside the confines of home or the gym. While yesteryear's baggy versions were anything but flattering, today's slim jogger sweatpants are cut closer to the body with a tapered leg that creates a much more sophisticated silhouette, so you'll look totally put together while still feeling ultra-comfortable.
If you're wondering how to wear sweatpants outside of your apartment, the easiest option to ease into the trend is to pair with a slim-fitting T-shirt—again, streamlining the shapes will keep you from looking like you're cruising around in your pajamas. Another great option is to opt for luxury sweatpants worn with a casual-yet-tailored button down in flannel or denim over a tee.
The more sartorially adventurous among us can try dressing up a pair of stylish sweatpants, preferably in a dark shade, with a T-shirt and blazer, or even a loosely tucked button-down shirt under a denim jacket. Sweats instantly make these looks a little more casual, in a way that's confident but chill.
Another pro tip: When selecting shoes to wear with sweatpants you can't go wrong with a classic sneaker, though if you're more dressed up on top try complimenting your look with a loafer.
With these styling options, a pair of high-quality sweatpants can take you just about anywhere, from the creative office with the liberal (or non-existent) dress code to all of your weekend plans.
Check out 21 best men's sweatpants you can score now and get ready to embrace comfortable style.
Advertisement – Continue Reading Below
Outdoor Voices All Day Sweatpants
What's the best part of wearing luxury sweatpants out in the world? Yep, still the comfort factor. Once you try these super-soft slim jogger sweatpants we're betting they'll be on heavy rotation in your closet.  
Mack Weldon Ace Sweatpant
Basic, but in a good way, as in you'll want to get a pair of these stylish sweatpants in basically every color. Their tailored fit with back-ribbed ankle cuffs and hidden zippered side pocket (perfect for stashing your small daily gear) means they check every box. 
Amazon Best-Selling Sweatpants
Hanes Men's Jogger Sweatpants
A classic fleece sweatpant is old-school in a good way, while the slim fit is completely modern. Wear them with low-top sneakers.
Richer Poorer Men's Fleece Sweatpant
Cozy heavyweight fleece, a classic fit, and an elevated camel color make these sweatpants from Richer Poorer perfect for weekend brunches and running errands after work. When paired with jewel tones or other rich earth tones, these sweatpants have the comfort and style you want in your go-to sweats with no chance of appearing frumpy or sloppy.  
H&M Skinny-Fit Sweatpants
You don't need to spend a fortune to find a stylish pair of sweatpants. These sleek black sweats from H&M have cool pocket details that elevate these casual bottoms.
Alo Yoga Cargo Traverse Sweatpant
These tri-blend sweatpants with cargo pockets work double duty for at-home lounging and casual weekend activities with a flattering slim silhouette. Opt for the black colorway to give your distressed jeans a breather when you're running errands around town.  
Under Armour Sportstyle Terry Joggers
Ideal for running errands and catching a game with your boys, these slim jogger sweatpants actually put in work, featuring a sweat-wicking fabric to keep you cool. That means they're a good option for the gym, too. 
The North Face Graphic Collection Fleece Sweatpant
It's sometimes the small details that can make a pair of gray sweatpants special, like black patches by the knees and back pocket. 
Paige Elmwood Jogger
These dressy joggers are part trouser and part sweatpants, and all-around comfortable as hell. Paige's TRANSCEND KNIT has all the stretch you need for all day comfort with a refined look that makes them incredibly stylish.
Brooklinen Bergen Jogger
You already know Brooklinen makes some of the best bedding out there, but did you know they make loungewear, too? The Bergen jogger offers the same high-quality product you'd expect from the brand with the soft touch of a cotton-modal blend (similar to the comfort of the best men's underwear).
Rhone Commuter Jogger
These high-quality sweatpants are so sleek and sophisticated no one will even realize they're joggers; they're basically sweatpants that look like jeans. Make them your go-to for business travel. At the end of a long trip you'll still look sharp. 
Lululemon At Ease Jogger
Precise tailoring and a cool, textured fabric that just happens to be super breathable make these luxury sweatpants a must-try. They'll be a welcome break from your jeans and chinos.  
Vuori Transit Jogger
Equipped with four-way stretch, sweat-wicking and quick-drying fabric, these stylish sweatpants can be worn to the gym, to grab a beer with friends, or both—no need to choose.
Fourlaps Relay Track Pant
A zippered pocket lets you store your belongings while on the go. Come wintertime, wear them over your shorts to keep warm en route to the gym, then easily take them off over your shoes courtesy of the zippered hems.
Hill City Midweight Train Pant
No drawstring waist here. This sleek pair of training pants is totally streamlined with a covered elastic waistband and discreet zippered back pockets.
Hiro Clark The Coastal Sweatpants
Luxurious sweatpants become extra cool with a slightly slouchy fit. Forego the elastic hems and try this fashion-forward pair. 
Off-White Slim-Fit Printed Sweatpants
Yes, cool designer sweatpants are worth your hard-earned money when they have unique design details, like Off-White's sweats with a cool chain-link fence pattern.
Falconeri Cashmere Sweatpants
Cashmere has turned into a buzz word for affordable brands to sell soft knitwear, but the truth lies in touch. If you're purchasing a cashmere sweatpant for under $100, chances are you're being gypped and the product won't have that silky-soft feel like the best offerings on the market. That's not the case here with Falconeri. Sure, the price point might be jaw-dropping for some, but you get what you pay for—and in this case, it's high-quality Italian knitwear craftsmanship made of the most exquisite yarn. If you have the cash to burn and want to take your daily lounging to the next level, these sweatpants are just the indulgence you've been looking for. 
NICCE Mens Jogger Type 5
Technical fabric details add a cool effect to these stylish sweatpants you won't be embarrassed to be seen in while out and about. 
Cotton Citizen Bronx Sweatpants
For those in the market for something a little more interesting than standard gray sweats, Cotton Citizen's French Terry stunners come in a variety of  hues and cool faded look for a vintage vibe with a heavy dose of comfort.
Billionaire Boys Club NYC Logo Sweatpant
Fresh purple sweatpants show some personality. Pair yours with a crisp white tee and fresh white sneakers to turn heads (in a good way!) on your next casual weekend outing with the guys.  
This content is created and maintained by a third party, and imported onto this page to help users provide their email addresses. You may be able to find more information about this and similar content at piano.io
Advertisement – Continue Reading Below