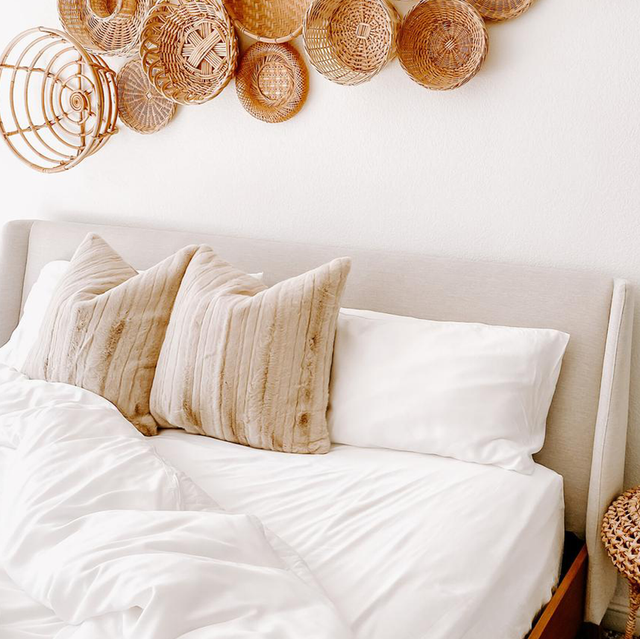 BAMBOOISBETTER
There are a couple of very important lessons you learn as you start adulting: vodka cranberries really aren't that great, rent and bills are an annoying reality, and you definitely need more than one set of bedsheets. I can't help you with your sugar-induced hangover, but I can let you in on a life-changing secret: Bamboo bed sheets are fantastic.
The baby-soft material has a laundry list of ah-ma-zing benefits: It's eco-friendly, hypoallergenic, super durable, wildly breathable, and most importantly, odor resistant—so you can go ahead and eat as much takeout in bed as your little heart desires. But I'd be remiss not to mention a few teeny, tiny drawbacks that you might wanna consider before dropping tons of dollars on a bamboo sheet set of your own…
Bamboo sheets can be kiiiinda expensive, though there are a few cheaper, more budget-friendly blend options available. Also worth noting: They wrinkle pretty easily, so if having super crisp sheets at all times is important to you, think twice before making this investment. (Don't forget that there are plenty of other fish in the sea, like linen sheets, silk sheets, flannel sheets, luxury sheets, cotton sheets, and super soft sheets.) Now with all that in mind, here are the best bamboo sheets that'll make you want to get into bed as soon as humanly possible.
Advertisement – Continue Reading Below
1
This sustainable brand
Bamboo Lyocell Sheet Set
Ettitude
ettitude.com
$41.00
This company is committed to making sustainable bedding—it's their whole mission. This particular set is made with 100 percent organic bamboo that is ideal for sensitive skin and offers a cooling effect. This right here is their OG set. 
2
These highly-rated ones
100% Bamboo Sheets
bambooisbetter
etsy.com
$189.95
These highly-rated pure bamboo sheets are perfect for anyone who is a picky sleeper. Choose from an assortment of colors and help the earth out with these environmentally friendly sheets. 
3
This stretchy option
SoftStretch Sheets
Purple
purple.com
$149.00
Purple is known for its top-of-the-line yet affordable mattresses. But did you know that they also have the ultimate bamboo sheets? These bbs aid in pressure relief and allow for an ultra-stretchy feel. 
4
This super durable set
Bamboo Sateen Sheet Set
The Company Store
thecompanystore.com
$160.00
This bamboo sheet set is made to last for years. Plus, it is totally elegant due to the sateen that offers a touch of shine. 
5
This super soft option
100% Organic Bamboo Sheet Set
Prosper Heights
prosperheightshome.com
$119.00
Ever wonder what it feels like to sleep on a cloud? Well, these sheets are designed with that concept in mind. Yeah, YW, you're about to sleep like a baby. 
6
This investment set
Degree 5 Bamboo King Sheet Set
DREAMFIT
Amazon
Yes, these (high-quality) sheets are on the pricier side but the splurge is so worth it. If you don't trust me, just read the comments. 
7
These silky-ish sheets
Lyocell Soft Luxury Sheets
Ever wanted to know what sleeping in a silky smooth white cloud would feel like? This is about as close as you can possibly get.
8
These eat-in-bed friendly sheets
1800 TC Bamboo Sheet Set
HomeSupplyStore
etsy.com
$58.65
The one drawback of bamboo sheets is the fact that they *kind of* wrinkle due to the bamboo, IK, stinks. HOWEVER, I found a solution to this tiny problem! This sheet set is wrinkle, fade, and stain-resistant. Who doesn't love a three-for-one deal?!
9
This option for sweaty sleepers
Linens Island Bamboo Collection
Oasis Fine Linens
amazon.com
Reviewers swear these moisture-wicking sheets will make you sleep like a bb. Might be because of their insulating properties, which help regulate your body temperature. 
10
This pilling-proof sheets
Bamboo Sheets
Layla
Layla Sleep Inc.
$145.00
If pilling sheets is your pet peeve (lord knows it's mine), you've got nothing to worry about with this silky soft set. 
11
This super affordable option
Luxury 1500 Series Bed Sheets
Yep, the price-tag is real. And so is the fact that these sheets are eco-friendly, wrinkle-resistant, and hypoallergenic. 
12
These risk-free sheets
100% Bamboo Sheets, 4-Piece Set
GOKOTTA
amazon.com
$89.88
These guys are so confident in their product that they've got a 100% percent satisfaction guarantee. They even go so far as to call their breathability "superior," so yeah, you could say they're proud of what they've made. 
13
This enthusiastically-reviewed set
Silky Soft Bamboo Sheets
Abripedic
amazon.com
$109.99
This super soft, comfy set is machine-washable—one happy customer raved in the comments, "These are better than 800 thread count Egyptian cotton, & they get softer the more you wash them." Sign me up! 
14
This luxe-looking option
Bed Sheet Set Luxury 100% Bamboo Sheets
This set is ideal for hot sleepers and those of us with sensitive skin. This pretty blue color looks so luxurious. 
15
These hybrid sheets
Silky Soft Bamboo Cotton Sheet Set
Royal Hotel
Amazon
$84.99
This luxury set is made from a blend of 60 percent Viscose from bamboo and 40 percent cotton. Good for shoppers who aren't quite ready to commit to full bamboo. 
16
This hot-sleeper safe option
100% Bamboo 4 Piece Bed Sheet Set
Hotel Sheets Direct
Amazon
Soft as silk, this thermo-regulating set (which is a fancy way of saying it'll keep you cool in hot temps and warm in cold temps) will make you into a repeat customer. 
This content is created and maintained by a third party, and imported onto this page to help users provide their email addresses. You may be able to find more information about this and similar content at piano.io
Advertisement – Continue Reading Below