Expansion. Of physicality. Of mentality. Of reality.
Expansion, on any level, scares the standard. Somebody, a while back, said that if it isn't broke, then it doesn't need to be fixed. And that sunk in to the deepest roots. Movement, thought and life were fixed. They were stuck in neutral. And whether through blissful ignorance or wishful dominance, it was accepted that change should be fought.
Expansion isn't easy and if it isn't easy then people are scared of the work. They're scared to even acknowledge that work is necessary, that it's healthy to move forward.
But every now and then the change comes no matter what because uncomfortable as it may be, transformation is essential. It comes as a furious wave that crashes down so violently that everything in its wake is gone.  It's unavoidable.
Then…expansion. Then…a brand new world where normal is pulling from 40 and turning around before the inevitable splash.
Stephen Curry is expansion. He is change. He is revolution. His footprints are being left in water but they will never fade. He changed the way the game is played, the way it's theorized and the way it's consumed.
The shift he's leading goes beyond the 94×50. Where scowls and anger once lived, a 32-watt smile has replaced them. His dominance is accompanied by joy and by a willingness to leave the door open for everyone behind him. He's spent years sharing his success with artists and activists and flocks of adoring fans.
His next step, the Curry Brand, is meant to establish even more change.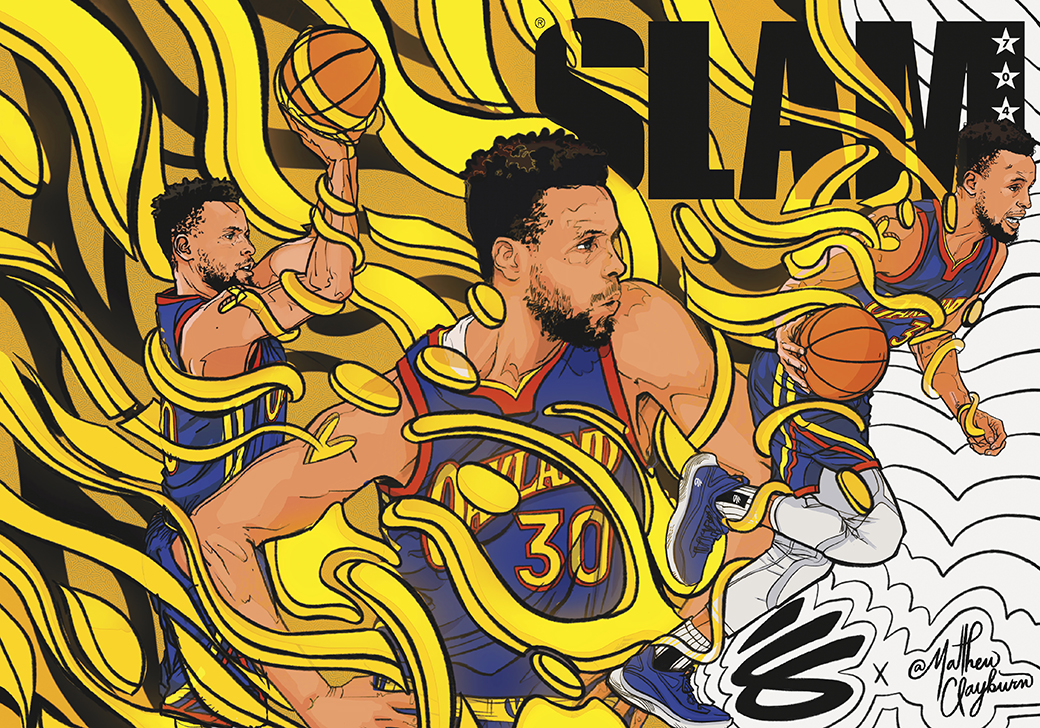 "It started almost two years ago with the idea that having a purpose-driven brand and having that tied into everything that we create is something that is near and dear to me and who I am," the three-time champ tells SLAM. "We can really create lasting impact and change in the community through the Brand, through footwear, through apparel and being able to tell these amazing stories and collab with amazing people throughout the process."
The Brand's motto is "Change the game for good." That means changing history, changing sneaker construction and changing negative situations for everyday people into positive ones. The world of Curry Brand is being built on those principles. No. 30, for real, wants to help.
"It's about being a good listener, first and foremost," he says. "Being aware of and appreciative of the platform that I have to be able to highlight amazing people and amazing stories and just collab with so much good positivity in the world. There's so many opportunities to do that across the board. Within the world of sports, for the next generation, and the corporate world and just all across the spectrum. And for me, I think it kind of came naturally with how I play the game, that we have our mantra 'Change the game for good.' Just trying to blaze my own trail with how I approach within those 94 feet of the court.
It's the same kind of mindset with people that are overcoming amazing obstacles and odds, to achieving success at the highest level and being able to amplify those stories and those people to the fullest. It's rewarding but also how and why I am in this position to be able to turn amazing things on the court into amazing opportunities and lasting change off the court. So I'm gonna continue to do that."
In addition to all the communities he's already helped in the Bay Area, the two-time MVP has kicked off his newest sneaker, the Curry 8, with actionable initiatives. Colorways of the new silhouette have been released in partnership with the Positive Coaching Alliance, with notable photographer Devin Allen, with an Oakland-based artist named Hueman and in support of youth girls basketball teams. His brother, Seth, his former teammate, Andre Iguodala, and his current teammates, Kent Bazemore and Damion Lee, have all been hooping in the 8s. That's only two months in. There's way more to come off the court. Court refurbishments, community events (when it's safe) and much more will continue to roll in. Curry and his team are committing to taking both short-term and long-term steps to ensure that they leave the game better than they found it.
"The stars kind of aligned in terms of being able to, no pun intended, make a splash on the scene with a brand new innovation and brand new silhouette with Curry 8 and Flow technology but also with Curry Brand and creating new energy around what I stand for and the change that we're trying to make and how people can experience the brand and the mission and what we say we're gonna do. So it's been an amazing two-year run to just get to the launch of the Brand these last two and a half months—it feels like it's been longer—it's been two and a half, three months. Off to a great start and we're gonna continue to double down on doing what we said we're gonna do."
But back to on-the-court for a moment. All the philosophical disruption that No. 30 has caused throughout his career has just been equaled by his footwear.
Rubber in basketball sneakers? The company with the one star has been including rubber in their basketball sneakers for 100 years. The Golden Gate Bridge, the same bridge on those Dubs uniforms, is only 84 years old. That's how damn long rubber has been around in hoops.
The Curry 8 has no rubber. The Curry 8…Has. No. Rubber.
Expansion.
Stephen's sneakers make use of Flow technology. It's a completely new advancement that has produced an outsole that nobody has ever seen before. The seven-time All-Star has been getting down in the 8s. As of this writing, the man's averaging 30 points, 6 assists and 5 rebounds a game, on 49 percent from the field, 42 percent from deep and 93 percent from the stripe. He's done it all in the 8s. Outings with 62 points and with 57 points were accomplished in the 8s. A night where he drilled 11 three-pointers was accomplished in the 8s. Eleven different matchups where he hit for at least 30 points were all accomplished in the 8s.
The Flow tech is lighter and more responsive than anything else that he's played in before.
"It's game-changing," Curry says of Flow. "I think you look at shoes across the board on the market, to be able to obsolete rubber and to have an all-foam outsole that does so many different things…the cushioning, the response is second to none. For me, I've always had that balance, and getting real technical, in terms of that core feel and feeling like I'm glued to the floor and I can stop on a dime and change directions. Finding that balance is always kind of a give and take. With the Flow, for me, traction is a huge piece to being at my highest performing abilities on the court. Usually you hear that squeak and it's always like, that's the telltale sign of traction but that means the rubber is kind of sliding on the floor a little bit and that's where that squeak comes from. This is a learning process for me and what Flow does, there's no squeak at all which allows responses to be a lot faster.
"It's obviously working on the court right now," he grins. "We're enjoying just the different feel of what that kind of looks like on the court, and knowing that we've kind of flipped how traditional shoes are made and flipped it on its head, and it's obviously light but it's got everything you need for me to be the best basketball player that I can be. And we bring some dope aesthetics and colorways and materials to it."
The one-time scoring champ has already debuted a handful of crazy player exclusive colorways in the still early stages, in addition to the joints that have hit the market (peep page 28 for more info on those colorways). There was a beautiful tribute to Gigi and Kobe Bryant and to his own daughters at the end of January, a trio of blazingly shiny "Warriors" options and a mismatched pair that honored the famed "We Believe" Warriors from the '07 campaign. Curry's had a hand in cheffing up flavors for nearly a decade now and he shared with us the biggest thing he's learned in all that time.
"Just being authentic and being consistent with [colorways]," he says about his personal creative mindset. "We've had some amazing highs, some lows. Learning lessons when it comes to how you create genuine energy and storytelling around things that make me tick, things that are part of my history and part of my background, people that have poured into me throughout my entire life and my basketball career. That kind of underrated mindset, it's not necessarily aspirational, but it's something that is a part of a lot of people's DNA in terms of being overlooked and underrepresented and finding ways to just look for that opportunity [to show] and know that they belong and have goals. And, like, for me, it's always about being authentic to who you are and finding clever ways to bring visuals and energy and depth to it. It goes back to the team that you have, and seeing things two steps ahead, and I do love that process."
Process is work and his work now speaks for itself. It's not only that he's completely uprooted the outdated basketball philosophies—it's that he's done it with a bravery that is somehow rooted even deeper than what came before him. What the world perceives as unwise doesn't faze him.
On the court, he's the person who can completely alter his shooting mechanics from shot to shot and they'll still drop, whether from 75, 30 or 15 feet. Off the court, he's the one who took the road less traveled and found out that it made all the difference. The mind of a visionary and the actions of an innovator.
"It's part of being an athlete, and to your point, it kinda manifests itself on and off the court," he says of his fearlessness. "But it comes with the work that you put in and the people that you are around, for sure. And so the team that I get to work with and I just understand that we are trying to be great in everything that we do. It's OK to take chances, take some risks, kind of push the envelope a little bit and be in a situation where you're driving the conversation as opposed to being followers. And so, for us, for me, that's always been a part of my DNA, on and off the court."
Even this story, even writing about Stephen Curry and all his success in this way could scare people. To think about him storming the game with the same force as an uncontrollable wave, as nature unleashed, is uncomfortable. But there's no growth in being comfortable.
The expanded mind terrifies the unexpanded mind. Stephen Curry is terrifying. His game is terrifying. His way of thinking is terrifying. The world he's forged is terrifying.
Don't try to fight it. Just sway with the flow.
5,337