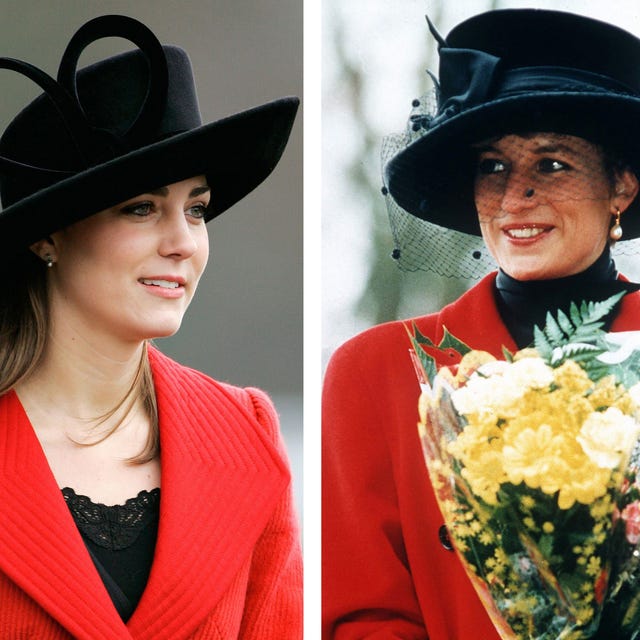 Tim GrahamGetty Images
As the wife of the future King of England, The Duchess of Cambridge is bound to draw comparisons to her husband's late mother, Diana, Princess of Wales. Here, a look back at the times Kate Middleton paid sartorial tribute to her late mother-in-law.
1 of 11
Diana, visiting Barnados Children's Charity on November 8, 1984; Kate in a Smythe blazer during her visit to Coach Core in Essex on October 30, 2018.
2 of 11
Diana in a Moschino suit while attending Sunday service at Sandringham Church on December 23, 1990; Kate in a Catherine Walker houndstooth coat while on the second day of her Sweden visit on January 31, 2018.
3 of 11
Diana at the Royal Ascot race in Ascot, England, on June 15, 1988; Kate on the first day of the 2017 Wimbledon.
4 of 11
Diana in an Alistair Blair-designed outfit and Milliner Philip Somerville-designed hat during a visit to Munich, Germany, in 1987; Kate in a Michael Kors coat dress during a service of commemoration in London in 2017.
5 of 11
Diana at the Remembrance Sunday Service in 1991; Kate in a Diane Von Furstenberg coat at the same service in 2016.
6 of 11
Diana in Bruce Oldfield at a movie premiere in November 1991; Kate in Beulah London at a reception in Thimphu, Bhutan in April 2016.
7 of 11
Diana in Jasper Conran during a visit to Canada in June 1983; Kate visiting Bacon's College in July 2012.
8 of 11
Diana in Yuki before a dinner in Japan in May 1986; Kate in Jenny Packham at a Bollywood gala in Mumbai, India in April 2016.
9 of 11
Diana attending a premiere in London's West End in April 1993; Kate in Temperley London meeting the Prime Minister of India in New Delhi in April 2016.
10 of 11
Diana in Catherine Walker on a visit to the Isle of Wight in May 1985; Kate in Alexander McQueen at Princess Charlotte's christening in July 2015.
11 of 11
Pin this article for later! For more, follow @ELLE on Pinterest.
Advertisement – Continue Reading Below
This content is created and maintained by a third party, and imported onto this page to help users provide their email addresses. You may be able to find more information about this and similar content at piano.io