Team USA is well-equipped to get back on the podium at the world juniors after a disappointing sixth-place finish in 2020. With eight players returning to seek redemption, the club is loaded with budding talent and one of the most experienced groups the Americans have ever iced.
The roster features nine first-round selections – including seven lottery picks -and players from 14 different states. The lineup is balanced and highlighted by elite talent up front, on the blue line, and between the pipes.
The Americans medaled six times last decade, with the latest of their two golds coming on Canadian ice in 2017. Team USA will look to repeat that success in Edmonton to capture its fourth title at the world juniors.
Forwards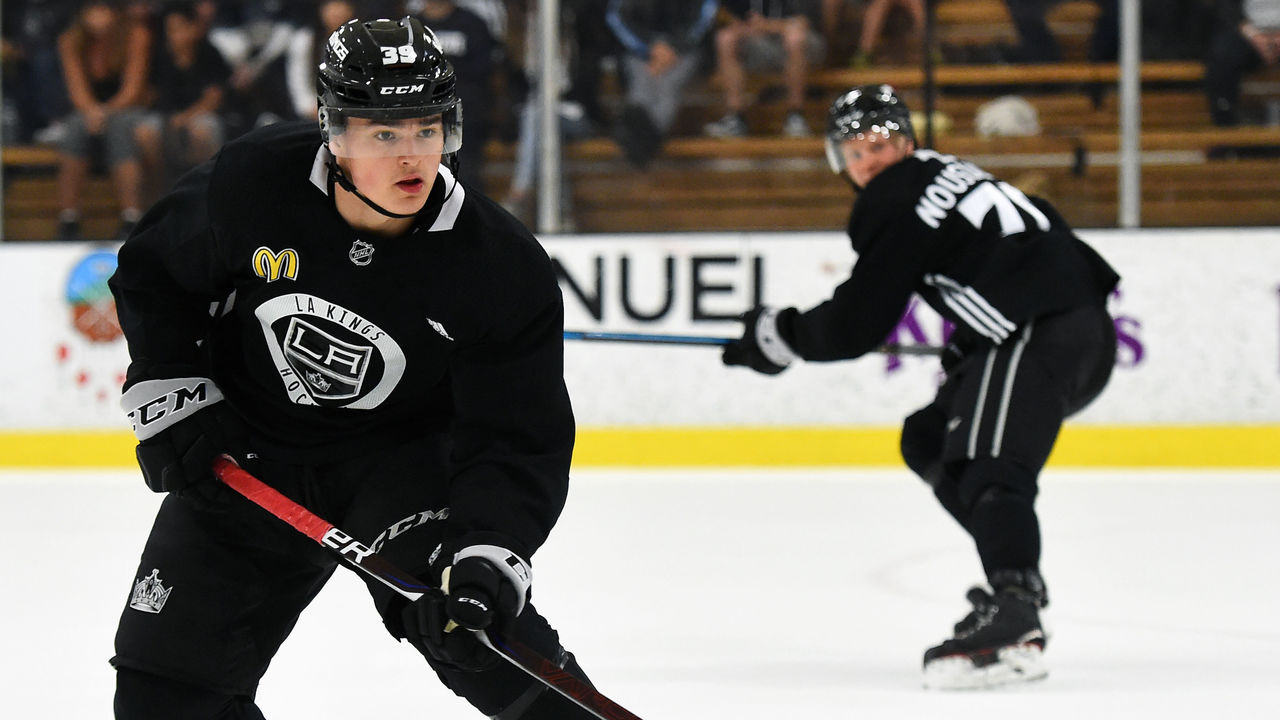 | Player | Position | Age | NHL rights |
| --- | --- | --- | --- |
| Matthew Beniers | C | 18 | 2021 eligible |
| Brett Berard | LW | 18 | No. 134 in 2020 (NYR) |
| Matthew Boldy | LW | 19 | No. 12 in 2019 (MIN) |
| Bobby Brink* | RW | 19 | No. 34 in 2019 (PHI) |
| Brendan Brisson | C | 19 | No. 29 in 2020 (VGK) |
| Cole Caufield* | RW | 19 | No. 15 in 2019 (MTL) |
| Sam Colangelo | RW/C | 18 | No. 36 in 2020 (ANA) |
| John Farinacci | C | 19 | No. 76 in 2019 (ARI) |
| Arthur Kaliyev* | LW | 19 | No. 33 in 2019 (LA) |
| Patrick Moynihan | C | 19 | No. 158 in 2019 (NJ) |
| Landon Slaggert | C | 18 | No. 79 in 2020 (CHI) |
| Alex Turcotte* | C | 19 | No. 5 in 2019 (LA) |
| Trevor Zegras* | C | 19 | No. 9 in 2019 (ANA) |
*Denotes returning player
All ages are as of the start of the tournament
Top talents
Turcotte and Caufield are two of five returning forwards and will play key roles. The pair will look to bring their chemistry back to the international stage after spending the 2019-20 campaign as freshmen with Wisconsin. Caufield put his elite scoring ability on display during his first NCAA season, registering a point per game with 19 goals in 36 outings, while Turcotte impressed with 26 points in 29 contests.
Zegras, who led Team USA in scoring with nine points (all assists) in 2020, hasn't played a ton of hockey as of late after forgoing his sophomore year at Boston University to sign with the Anaheim Ducks last spring. The crafty pivot has elite vision and is arguably the team's best playmaker. Zegras put his talents on full display with an incredible helper against the Czech Republic in 2020:
Boldy, who failed to make the squad last year after a slow start to his freshman season with Boston College, could also make a serious impact. The 6-foot-2 winger posted 24 points in his final 20 games in 2019-20 and carried that momentum into his sophomore campaign, amassing three goals and eight points in four outings.
X-factors
Kaliyev has established himself as a bona fide goal-scorer throughout his career in junior, and his game-breaking ability could make a significant impact for the Americans at any moment. The 6-foot-2 sniper was on pace to hit the 50-goal mark for the second straight campaign with the OHL's Hamilton Bulldogs and has lit the lamp 126 times in 192 games during three seasons with the club.
He led Team USA with four goals through fives games at last year's world juniors and will be relied upon to carry much of the scoring load with Nick Robertson out of the picture. He flanked the wing alongside Zegras last year – who picked up a helper on all of Kaliyev's tallies – and the dynamic duo will likely make up two-thirds of the Americans' top line this holiday season.
Brink, an undersized but talented winger, could also prove to be a difference-maker. His advanced vision and playmaking ability make those around him better, and he'll likely be surrounded by elite talent while playing in the team's top six.
Another under-the-radar player is Beniers, who's the youngest on the team and is pegged to be a lottery pick in the 2021 NHL Draft. He'll likely slot in further down the lineup, but he played both special teams as a freshman with Boston University and could be called upon in either of those situations. He's also the only yet-to-be-drafted player on the team, so the chance to boost his draft stock should serve as extra motivation.
Biggest strength/weakness
Team USA is loaded with firepower up front. The roster has a solid combination of playmakers and finishers, and it shouldn't have any problems finding the back of the net. It's an experienced group that will rely on a handful of elite second-year forwards to lead the way.
The only weakness with this unit is its size. Kaliyev, Boldy, and Colangelo are the team's biggest forwards at 6-foot-2, while six of the 13 are under 6-foot. The larger ice could allow the undersized Americans to benefit against inferior opponents, but their lack of bulk could be an issue when they match up with the likes of Russia or Canada later on in the tournament.
Defense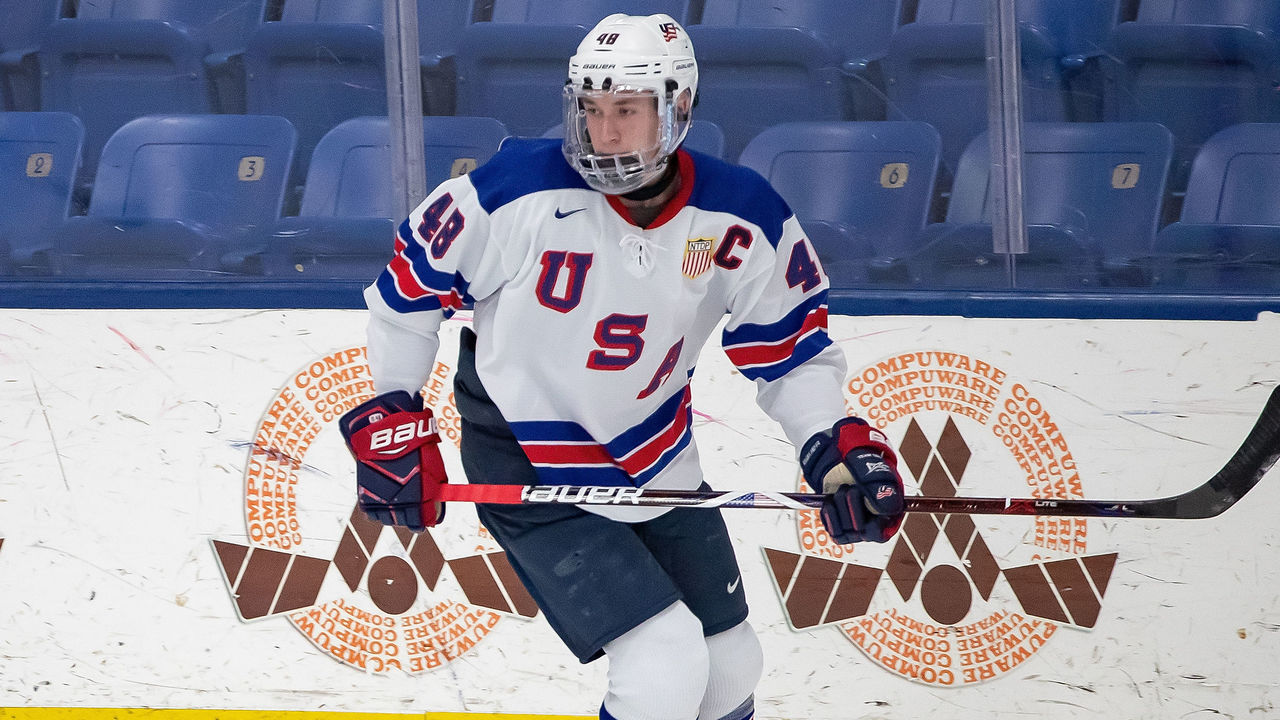 | Player | Position | Age | Team |
| --- | --- | --- | --- |
| Brock Faber | RD | 18 | No. 45 in 2020 (LA) |
| Drew Helleson | RD | 19 | No. 47 in 2019 (COL) |
| Ryan Johnson | LD | 18 | No. 31 in 2019 (BUF) |
| Tyler Kleven | LD | 18 | No. 44 in 2020 (OTT) |
| Jackson Lacombe | LD | 19 | No. 39 in 2019 (ANA |
| Jake Sanderson | LD | 18 | No. 5 in 2020 (OTT) |
| Hunter Skinner | RD | 19 | No. 112 in 2019 (NYR) |
| Henry Thrun | LD | 19 | No. 101 in 2019 (ANA) |
| Cam York* | LD | 19 | No. 14 in 2019 (PHI) |
*Denotes returning player
All ages are as of the start of the tournament
Top talents
York is the lone returning defenseman and may also be the club's most important. The Michigan product has five points in eight games during his sophomore year and is an elite skater who can be relied upon in all three zones. York's ability to read the play and join the rush when appropriate – as he does in the clip below – should only be enhanced by the larger ice.
Sanderson was the highest-selected defenseman at the 2020 draft, and the fifth overall pick has the potential to make a serious impact for Team USA. The 6-foot-2 blue-liner is still developing his offensive game, but his decision-making is advanced and his defensive side is as sound as it comes for a player his age. Look for Sanderson to eat some big minutes as the tournament goes on, especially when the Americans match up against one of the other top nations.
X-factors
Kleven was a late addition to the roster after a trio of players – including 6-foot-6 defenseman Alex Vlasic – were deemed unavailable to participate. Vlasic would have been one of the most physically imposing players in the tournament, and at 6-foot-4, Kleven will play a key role in replacing that lost grit and size on the back end. The North Dakota freshman likely won't make an impact offensively, but his shutdown ability could prove vital during the deeper stages of the tournament.
Johnson is another intriguing player whose name doesn't necessarily jump off the paper. The California native is a strong puck-carrier who's capable of moving the play efficiently, and he'll allow the Americans' loaded forward group to go to work. Johnson's tallied four assists through six games with Minnesota this season and will look to carry his strong play to Edmonton.
Biggest strength/weakness
The defense certainly isn't flashy, but it shouldn't be overlooked. Team USA's blue line has a ton of strength and size; six of the club's nine rearguards are 6-foot-2 or taller. They all patrol the ice relatively well, too, and opposing teams may have a difficult time establishing extended periods of possession in the offensive zone.
As steady as the blue line is, it's rather inexperienced at the international level. Eight of the nine are playing in their first world juniors and some of their opponents will offer the stiffest competition they've ever faced. Team USA's defense isn't all that dynamic, either. Outside of York and Sanderson, there aren't a ton of players who can be effective in multiple roles or situations.
Goaltenders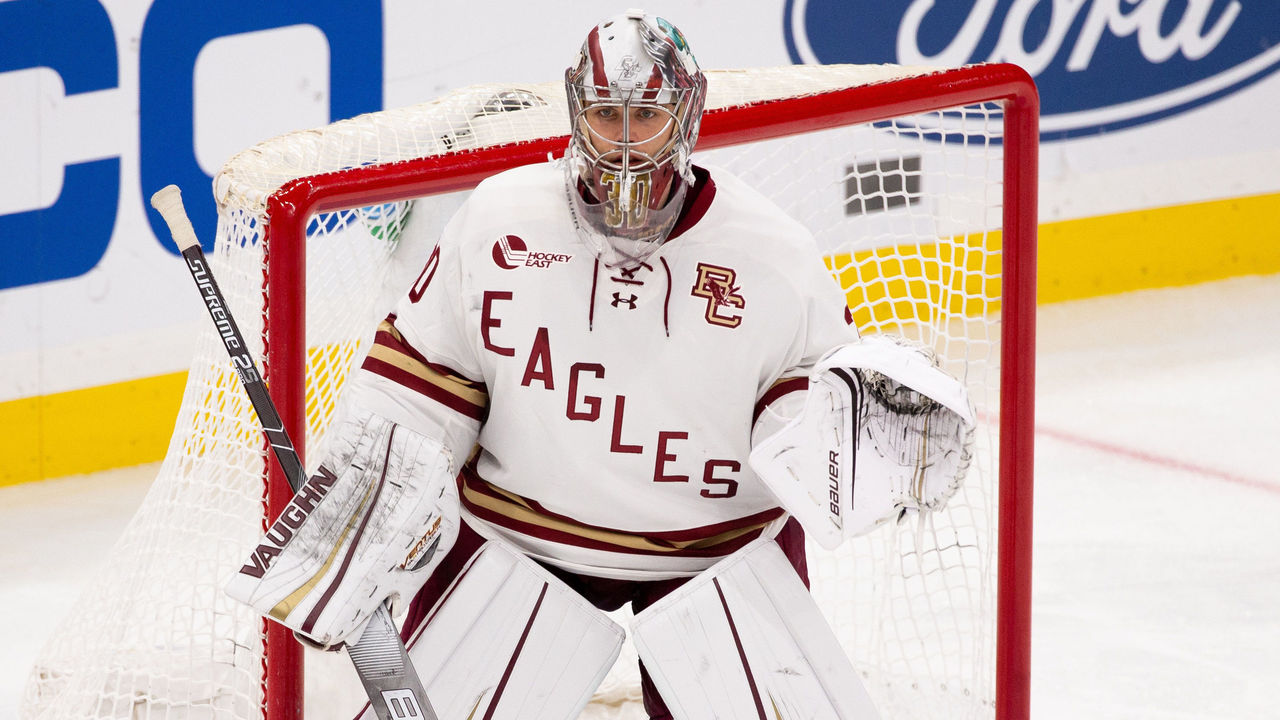 | Player | Age | Team |
| --- | --- | --- |
| Spencer Knight* | 19 | No. 13 in 2019 (FLA) |
| Logan Stein | 19 | Undrafted |
| Dustin Wolf* | 19 | No. 214 in 2019 (CGY) |
*Denotes returning player
All ages are as of the start of the tournament
As potent as the Americans' top offensive talent is, the club's biggest strength may be between the pipes. Both Knight and Wolf played on the club in 2019 and the undrafted Stein has an extra something to prove.
Knight, who's just one of three goaltenders to be selected with a top-15 pick over the last decade, is making a rare third appearance at the world juniors and is elite enough to steal the tournament on his own. The 6-foot-3 puck-stopper followed up his All-Star rookie season at Boston College with a sensational start to his sophomore campaign. Knight owns a .955 save percentage and has recorded a pair of shutouts through four games.
Wolf will likely serve as the backup, but he could be the starter on most teams. The California native was named CHL goaltender of the year in 2019-20 after authoring a 34-10-2 record with a .935 save percentage and 1.88 goals-against average for the Western Hockey League's Everett Silvertips.